John Hiatt
Master of Disaster (New West Records)
By: Alex Steininger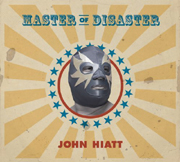 Hiatt's Master of Disaster is the quieter follow-up to 2003's blues-rock Beneath the Gruff Exterior. Produced by Jim Dickinson, with his sons Luther Dickinson and Cody Dickinson (of North Mississippi Allstars fame) on guitar and drums, finds the songwriting legend penning another collection of introspective, soulful roots tunes.

From the Americana of the title track, which opens the album. To the blues ditty "Wintertime Blues". Through the rocker "Love's Not Where We Thought We Left It", or the soft "Cold River", and traditional country of "Old School", Hiatt has successfully made another rich, moving batch of songs that will remind you why he is such a pioneer of songwriting in the roots world.

Master of Disaster is solid from start to finish, and whether Hiatt is calling on his country, roots, or blues influences, he always makes the number soulful and introspective, ensuring that the listener undoubtedly is reeled in for the ride. I'll give this an A-.