JoyDrop
Metasexual (Tommy Boy Records)
By: Alex Steininger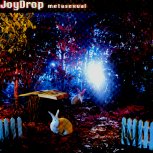 JoyDrop is a diverse rock band from Toronto. Led by female vocals, they have the option to rock out or the choice to go soft. Mixing in some programming, keyboards, and strings, they help keep the music interesting and just when you think you know what to expect they throw something different at you.

Mixing in a hard rock taste with a modern rock feel, the music comes off as a slight industrial beat mixed with straight ahead rock 'n' roll, helping it stay away from all clich?s that rock bands of today seem to so easily fit into. Take "Beautiful," for example. It starts off soft, with Tara's vocals carrying the song over guitar. The bass and drums enter in, and the song still maintains its soft feel. And when Tara sings, "I'm not beautiful like you, I'm beautiful life me," the words ring around in your head and you can't help but agree with her. Even though the words are words of inspiration, taking them superficially you can easily understand where they are coming from. Tara is a knockout. The only flaw this song has is the distorted vocals they use when she sings the above mentioned line. Even though the words are powerful, and very memorable in the song, the job they did on the vocals ruins the whole song.

The rest of the album jumps between soft numbers and amped-up rock attacks. "Cocoon" displays the band in both lights. The intro is soft, driven by Tara's vocals, but the song soon busts into an epileptic attack of rock. It eventually calms back down to close out the song, making the total soft to loud contrast a great representation of the band. "Over & Under" helps show the computerized side of the band, as the keyboard bursts throughout the song.

Always one for female fronted rock, this band was pretty interesting. Musically it took me a few listens to get into the disc, but once I was into it the vocals kept reeling me in. Naughty and sweet at the same time, they help make the rock blend nicely with the computerized-industrial feel and the pop hooks they mix in. I'll give this disc a B.