DMX
It's Dark and Hell is Hot (Def Jam)
By: Adam A. Nielsen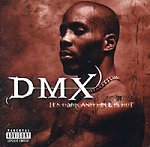 It's about time something original came out. I'm not trying to say that everything today sounds the same, but DMX's debut album is definitely in a league of it's own. A strong east coast artist with an original sound who doesn't remix with R&B groups or diss anyone's coast, and he doesn't roll with or talk about his crew constantly. All that DMX does hit you with is a lot of hardcore rhyming and beats. From the 1st track (Intro) which has the best beat I've heard in a while, to the last song (Niggaz Done Started Something), DMX hits your mind and your ears with some crazy lines and keeps it real the entire time.

Using his trademark bark and his sandpaper-like deep voice, DMX hits you with a sound that is unparalelled in today's Hip Hop world. The first single released is Get At Me Dog, which seems to be DMX's anthem. Using his trademark bark he invites all enemies to come get him. "You Niggaz wanna be Killas? Get at me dog. You Niggaz wanna feel this? Get at me dog. You Niggaz want the real? Get at me dog. (Bark, Bark) What the deal? Track number 8 (Damien) is a little disturbing, as it tells the story of DMX making a deal with the devil to become a famous rapper. Damien urges DMX to kill his friends, use drugs and have sex. "You want some weed? Go ahead, take it. Go ahead smoke it. Go ahead and fuck shorty you know I can keep a secret." Although I am very far from being a Devil wroshiper, the beats and the rhymes flow nicely. Also; Stop Being Greedy, ATF, I Can Feel It, and Niggaz Done Started Something (featuring Mase and the Lox) are definitely dope tracks.

I got into DMX when I heard him with LL on the remix of "4,3,2,1" and on Mase's "24hrs to Live." I bought this CD the day it came out. I absolutely recommend all of the above to all Hip Hop fans everywhere. Whether you buy it for the hittin' beats, the smooth lyrics, or the bark and sandpaper voice, just buy it. It didn't debut at #1 on the Billboard charts or get my seal of approval for nothing.