TEN REASONS WHY ELVIS PRESLEY IS STILL THE KING
By: Gary Pig Gold


1. HE HAS AN UNPRECEDENTED 161 ALBUMS STILL IN PRINT... ALL COMPRISED OF THE SAME 47 SONGS.

2. AN AVERAGE OF 512 PEOPLE HAVE VISITED GRACELAND DAILY SINCE 1977, A 400% INCREASE OVER THE NUMBER WHO VISITED ELVIS' HOME WHILE HE WAS STILL ALIVE.

3. "ELVIS" SPELT SIDEWAYS IS "LEVIS".
4. COOL PEOPLE LIKE THE CRAMPS, CHRIS HOUSTON AND HILLBILLY PECKERS STILL SING ABOUT ELVIS.
5. COOL PEOPLE LIKE JAMES RICHARD OLIVER, EL VEZ AND MARTIN & THE E-CHORDS STILL SING LIKE ELVIS.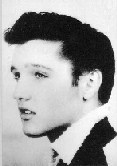 6. THE 1995 NORTH AMERICAN TOUR OF ELVIS' PINK CADILLAC OUT-GROSSED PINK FLOYD'S LAST WORLD JUNKET BY $468,000 (U.S.)
7. SOMEWHERE IN THE WORLD, SOMEONE TUNES IN AN OLD ELVIS MOVIE ON T.V. EVERY 20 SECONDS.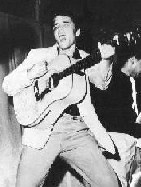 8. WITHIN 15 SECONDS, EVERYONE HAS SWITCHED CHANNELS TO "WHEEL OF FORTUNE".
9. NONE OF ELVIS' OFFSPRING, LEGITIMATE OR OTHERWISE, HAVE RELEASED A BEST-SELLING BOOK OR HIT RECORD...YET.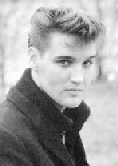 10. SOMEWHERE IN THE WORLD, SOMEONE PUBLISHES AN ARTICLE ABOUT ELVIS EVERY 30 SECONDS.