Various Artitsts
Ska United: A Global Ska Sampler (Moon Ska Records)
By: Alex Steininger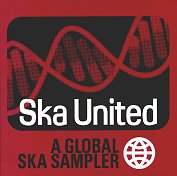 Ska started out in Jamaica, then the English revived it and started up the '2nd wave.' Now America has staked its claim with its 'third-wave,' but America isn't the only country where ska bands are currently cropping up. England, Germany, Russia, France, and Brazil are just a few of the countries who have an active ska life bubbling. And who else to bring us a ska sampler covering the globe than New York's Moon Ska Records.

Beginning with Denmark's Napoleon Solo, and their contribution "Go Home," this compilation gets off to a good start. A 2-Tone number with clear, easily understandable vocals (hardly any hint of an accent), and some nice, light and fluffy upbeat on the guitar, this song puts the listener in a good mood for the rest of the compilation. As first impressions are very important with compilations like this, if the first track doesn't muster it you might as well call it quits. But that just wasn't the case here. Already a proven winner in the U.S., Dr. Ring Ding & The Senior Allstars bring their traditional style to your ears. Some sweet ear candy, this song is a perfect number to get you grooving and dancing. Dr. Ring Ding's voice mixes perfectly with the music; a slight Jamaican touch to his voice help push the music even farther into the roots of the music. Even though it's not new to this disc, The Toasters' "Underground Town" is one of the best tracks on their latest release [DON'T LET THE BASTARDS GRIND YOU DOWN (Moon Ska)], so of course this track is a winner. The pioneers of the 'third wave' sound, this number is both infectious for the people who want to sing along, as well as for those who want to dance. Blinding horns shine throughout the music, while Hingley's voice is as clear and straight forward as they come. He keeps the music understandable and fun, as you're not puzzled on what he said, so you have more time to concentrate on the music. Also a big plus for this album is the inclusion of Judge Dread (with Dr. Ring Ding) on "Big 7." Regrettably deceased, Judge Dread was a cult figure in the world of ska. He will be truly missed. This track not only showcases his tremendous talent at creating very authentic Jamaican roots music, but it also pays homage to a great hero for almost everyone in the ska scene. Very out of place on a compilation like this, Rude Bones really liven things us with their brand of ska-punk on "Where Are You Now?" Not the best ska-punk, by far, but on a compilation of primarily traditional and 2-Tone ska bands, they hit the listener hard from the beginning and really get your attention. Maybe that was their intention, who knows? Anyhow, after listening to the disc all the way through, they'll definitely stick with you. The music isn't bad, it's very catchy for what it is, but it does take some time to get used to. The vocals, at first, seem very annoying compared to the music. After getting a feel for the Japanese act, though, you will enjoy them more. Spook & The Guay's "Anti Racist Soldiers" is one of the weaker moments on the compilation. But you didn't expect every track to be a stand out, did you? The song is a repetitive, lackluster 2-Tone meets hip-hop ska number that just doesn't have the danceable chords or hum-able melodies that the other tracks do. Coming back to the United States, Easy Big Fella puts some smiles on your face with "Big Guns Down." Circling around their traditional influences, on this one they dwell deep into the 2-Tone aspect of ska. Keeping things at a mid tempo, they are able to meet the slow dancers and kids who want to dance ferociously half-way, creating a number that has enough beats for all dancers to find their comfort zone. Plus it's pretty catchy after a listen or two. Ending with a Brazilian band by the name of the Subtones, "Pura Verdade" is the final song on this compilation. A third-wave number, it combines a chunky upbeat with overpowering vocals, creating a ska-punk-ish feel that ends the compilation in quite a disappointing number. Sure, I can't understand a word they're saying, but if the music was better constructed I could focus my attention on something else than the vocals. But not one to disappoint, Moon Ska has included a live track from Buster Bloodvessel covering Laurel Aitken's "Sally Brown." Now that's an ending!

With a lot going on in the International ska scene, it was only a matter of time before someone released a compilation containing numerous bands from different countries. Who else to do so then Moon Ska, the U.S.'s biggest all-ska label. Overall it's a pretty good compilation. A lot of great bands, a lot of music (over seventy-five minutes of music spread out over twenty-one tracks), anyone that is interested in hearing what is going on outside the U.S. should definitely check out this compilation. I'll give this disc a B+.