Stringtown Road
Chamomile and Color TV (Encrypted Records)
By: Alex Steininger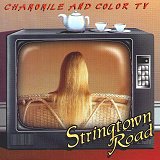 Writing and performing under his own name since the early 70's, Gary Winkler, the key songwriter behind Stringtown Road, decided to form a band in 1995 because he didn't "want to be just another personality. I want people to focus on the music...not me." Creating bluegrass/country/folk fusions, his new band helps transcend his music and pump different aspects of their lives and souls into it.

Very grassroots, common man based, his subtle songs carry a lot of impact during the faint moments, and quiet happenings during the more up-tempo portions.

The use of electric guitar helps stroke new blood into the song, while the powerful echo of the acoustic guitar impacts each song with a precision that is both in-depth and provoking, a good combination that will make you feel and move to the music.

Although the songs are quite personal, there is still that danceable twang that is sprinkled in to help you digest and enjoy the music more. As you're stepping and moving to the music, you can't help but want to smile and swing your hips along with the hot banjo, like on "Daddy Was A Logger," or sway to the intoxicating tingle of the guitars on "Walkin' In The Rain."

Starting with an acapella number, and ending with an instrumental number, the band breaks it down to the simple ethics that made classics out of 30's and 40's bluegrass composers, as well as the 60's and 70's folk artists. A lot of music (almost fifty-seven minutes to be exact) means a lot of square dancing and friendships will form with each track. Consistent and well written, these strong points help fade away any weak points of imperfections. I'll give this disc a B.