VARIOUS ARTISTS
A Winter's Tale (Celtic Heartbeat/Universal Records)
By: Alex Steininger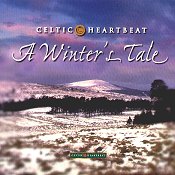 Celebrating the age-old tradition of storytelling -- which is an important part of the Irish folk culture -- Celtic Heartbeat, one of the top Celtic labels in the world, has decided to release a collection of premiere Irish folk and world music artists. Eleven new songs and two specially selected tracks make up this compilation, which lasts for nearly fifty-eight minutes.

If you're into Celtic music, you'll definitely love this collection. Very gentle, the music settles into you slowly, helping you to relax with ease. Not being one heavily into the Irish folk scene myself, all of these artists are names I've never heard before. But, according to the press information, Spirit of Eden, Eimear Quinn, and Dolores and Sean Keane are all top names in the Celtic world.

Even though I had never heard of any of these people before, when I started to listen to this compilation, it quickly began deeply affect me. All tension I was feeling, or any other ill thoughts I had, evaporated when I started to concentrate on the music. Calm like the ocean, this is the type of music you want to listen to when you really want to relax. As each song slipped by, I fell deeper and deeper into a sleep. Usually a bad thing when you fall asleep to music when that isn't your intentions, here I don't think it is.

A great Celtic collection, from what I can tell. If you're into this type of music, and want to experience some other artists in this field (or just want more material of your favorites), then this is definitely worth your while. I'll give it a B.