Tamia
Tamia (Qwest/Warner Bros.)
By: Sylvia White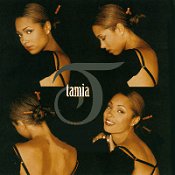 The once fledgling young songbird named Tamia, who under the guidance of Quincy Jones, made her debut just three years ago, has come into her own. On "Tamia", the new self-titled debut by the artist creates a most beautiful highlight to her talents. This collection of R&B songs accentuates the range and depth of the Canadian born songstress. Only at the tender age of 21, she encompasses the talent and the vocal versatility that will one day establish her as one of the "true singers". Quincy saw a great deal of potential in Tamia, thereby having the public wait so long for her debut album. All the while, she laced her smooth talents upon various soundtracks, such as "Set It Off" and "Speed 2", where she made a cameo appearance. In the long run giving the listeners a taste of what to expect from her. What Q saw shines through on this album. There is talent, versatility, clarity, depth and passion.

On her first track and first debut, "Imagination", Tamia gets a little help from super producer, Jermaine Dupree and his SoSo Def Camp. A funky, almost playful tune that may not highlight Tamia's vocals, but is sure to cause a head nod or two. "So Into You", her current release and second track is such a funky, hypnotic tune. It courses with sassy, sexy rhythm. It's one of my favorites! On "Never Gonna Let You Go", Tamia shows her range and depth. This song is such a wonderful ballad that rings true to the listener in regards to letting love go. Wonderful production, great harmonies. "Falling For You" is a borrow from The Emotions once hit tune, "Best Of My Love". This tune is a bit sugary and lollipop, though still danceable, but it does not mesh well with the other tunes from the album. "Show Me Love", is a tune that one can get into, it once again shows off Tamia's vocal quality. On "Rain On Me", we see Tamia at her seductive best. We get a taste of the fire and flame that she possessed on "You Put A Move On My Heart", as well as a glimpse at her range ability. Great song, great production (again)!

"Who Do You Tell", is such an expressive, almost folky sorta song. From lyrics to instrumentation, this tune truly compliments Tamia. As well, this song, which was co-written by the wonderful Marc Nelson of Az Yet fame, illuminates that he continues to deliver great melodies and smooth harmonies on his background portions and his creative contributions. The tune, "Gotta Move On", is a smooth, almost slick, mid-tempo track that gladly does not take away from the album as a whole. The chorus is quite catchy. On "This Time It's Love", the best song on the entire album, is the standing statement of Tamia's vocal aptitude. On this track, she soars and becomes such an emotive singer, with potential to be a distinctive vocalist. A beautiful sweeping ballad that leaves the listener "feeling" every note. Simply gorgeous. "Loving You Still", is a song with a summer feel to it. The sweet ballad had Tamia beginning with her soft, demure delivery, but ending with a crescendo of plaintiff pleas. She makes the listener, once again, feel her passion. "Careless Whisper", the only remake on the album, is a take from the George Michael/Andrew Ridgley/WHAM, best of collection. The remake is nicely done, but I still find it to be rather unnecessary. The way I see it, why mess with perfection, because WHAM's version will always be the best way this tune can be done, in my opinion. "You Put A Move On My Heart", is a hidden track that is welcomed on this work since it is where she first began.

The album as a whole receives a rounded 5 from me. The entire work, from beginning to end is a sweet ride by an up and coming young vocalist with enough talent and ability to soon break into her own status of performer. Tamia and her production team have done a great job at releasing her to the world. Welcome Tamia, we all hope to hear more from you. Pick up your copies soon R&B listeners, she is worth the listen.