Deicide
When Satan Lives (Roadrunner Records)
By: Alex Steininger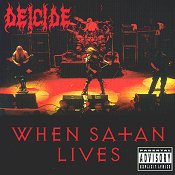 Hailing from Florida, this four-piece death metal band seems to be way too obsessed with Satan. With the release of their new live album, "When Satan Lives," the band proves they're a bit too obsessed (possessed even?) with Satan. I mean, give it a rest. Gimmicks aside, if you're going to do something outlandish, at least do something everyone else and his or her grandmother hasn't done before. And, to be honest, the sad thing is I don't think these guys are kidding. The lead singer seems to have an upside down cross embedded into his head, which just goes to re-enforce the stereotype that death metal bands aren't all that bright.

As for the music, it's more of a disrespect to the ears than it is musical. "Help me, I've got a rat in my throat" vocals lead the way through standard-issued death metal guitar riffs, bass thumps, and drums scatters. Once again, they prove that there is nothing new or spectacular here. Give it a rest...get a day job and give up music. That's my best recommendation.

There's nothing more to say. These guys are an embarrassment to music. They're horrible and should be sent to hell (although, I think they'd like that) for picking up an instrument. I tried to be fair and give them an open ear, but there was only so much I could take. Recorded at Chicago's world-renowned House of Blues, which some great bands have played, it makes me wonder who's doing the booking now? I'll give this disc an F.