Latex Generation
Boysrock (One Foot Records)
By: Alex Steininger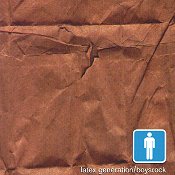 Joining the ranks of New York's vast musical community, Latex Generation is a three-piece punk-rock band. On their sophomore release, the band writes a few blissful moments amidst a bunch of other sub-par punk tracks.

It's not that the Latex Generation is bad, they're doing everything that all the other punk-rock bands are doing, except they don't always follow through with melodic hooks and the vocals don't always mix with the music.

Take track three, "21 (of age)," for instance. They song begins with a catchy guitar riff and when the bass and drums come hammering in, the song has real promise. But, then the vocals enter in and over power the music, taking away any edge they had. Not to mention the guitar, which seems to lose all appeal as it slips into some mediocre riffs. Nothing catchy or appealing to feed off of, the song quickly becomes a turn off.

This happens all too frequently throughout the album. It wouldn't be so bad if they could at least save face with their lyrics, but the lyrics aren't anything spectacular either. Your average, run-of-the-mill lyrics relating to life (or the lack thereof). Not to say these guys don't have a life, because with their heavy tour schedule I'm sure they have a very colorful life, but the main influences for the lyrics seems to be boredom, laziness, and every day life (much like every other band).

Just your average punk band, they have some decent moments and some forgettable moments on this disc. If you're a fan of this band, you might want to check this album out. Otherwise, you may just want to stick with what you know. I'll give this disc a C-.