BAND PROFILE: Tri-State Killing Spree
(Send Mail To Tri-State Killing Spree)
By: Sonya Brown



Don't let the name, or the fact that this band hails from Seattle fool you; Tri-State Killing Spree is neither grunge nor metal, but a dark and spiritual gothic band. After witnessing their performance at The Paris Theatre on November 14th, I picked up a copy of their recently released self-titled EP so that I might continue to enjoy their unique blend of dark and enchanting sounds.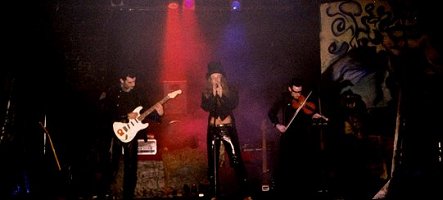 Tri-State Killing Spree consists of Sean Sonnet, vocals, bass, keyboards; Matt Bayne, guitars, bass, mixing, treatments; and Jyri Glenn, violin, baritone violin. They have been together for about 2 years. While listing such bands as Dead Can Dance and Skinny Puppy as musical influences, they also attribute their sound to their classical backgrounds. They bring a impressive aura to their stage shows with tasteful lighting and unique stage-props. While they have a lighting person (Kevin), most of the lighting and props were designed and built by Sean. The 'steeple' props were designed to emphasize the song "Chance" which Jyri describes as follows, "Chance is a story about a homeless beggar who is at the end of his line and decides as a last ditch effort to seek refuge in a church. Upon his entry into the church he is cast out by the usher due to his appearance. The story continues, and ends with the usher of the same church dying many years later to discover the man at the pearl gates of heaven turns out to be the homeless man; and of course the usher is cast out of heaven." He feels the theme of this song represents the current hypocrisy of organized religion. Sean's writings are inspired by his fascination with death, love and fear.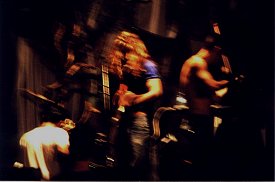 Future projects for Tri-State include the release of a full-length album towards the end of January, and plans to assemble a benefit show with a Seattle orchestra. Their EP consists of the tracks "Song for Angel", "Second Hand of Time", "My Socrates", and "Somewhere as Me". They are presently considering re-releasing the EP with the song "Chance" to replace "Song for Angel", which they feel is a better recording and will flow nicely with the other songs. They also have plans to work with art institute classes on some video and fashion projects.
The full-length album will feature about 9 tracks. I found Sean's vocals remind me of a combination of a younger much softer Ozzy, dashed with a bit of Cure's Robert Smith to form a very intriguing union. Jyri's violin adds to the sensuality of their sound, as does the guitar work of Matt Bayne. Sean does all vocals, and backing vocals are dubbed electronically. I anxiously await the full-length CD.
While presently using a drum machine, they are in the process of auditioning percussionists, but Matt informs me that unlike some past drummers, the machine tends to actually show up at the shows and isn't drunk all the time....... however it does leave you open for more technical problems.
I asked Matt about his favorite bands to perform with and he listed Seattle's "Endless Still" and "Dyed Emotions" as a few of his favorites; with the Colourbox being one of their preferred venues. He feels the combination of the "Dead Can Dance" type sound of "Endless Still"; and the "New Order" type sound of "Dyed Emotions" lends itself to a nice lineup with Tri-State's medium darkwave (of 90 beats per minute).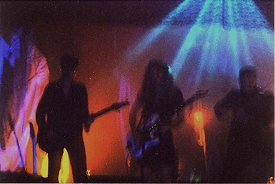 I was most intrigued by the name "Tri State Killing Spree" and I asked how this name came about. I guess the name was suggested by Sean's best friend who mentioned the name in a passing, joking manor... stating that the pressures of life could make one want to go on a Tri-State Killing Spree. Sean felt the name was a perfect juxtaposition to the actual style of the music. The name was decided upon for more of a shock factor as well as a sarcastic response to Seattle's over inhabited 'testosterone' grunge scene. Matt mentioned his past fascination with the movie "Natural Born Killers", but as a band they feel the movie "Falling Down" relays more of an idea of what they are about. Matt also mentioned there being "3 states to everything"....matter; solid, liquid and gas; mind; past, present & future..... but he also keeps a sense of humor about the band name by mentioning how "everything needs to sound deeper than it really is".