INTERVIEW: The Slackers
Vic Ruggiero -- Vocals, Piano, Hammond B-3
By: Alex Steininger
Photos courtesy TheSlackers.com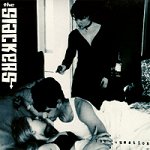 One of New York's premiere traditional ska acts, The Slackers seem to get better with age. In 1997 they released their Hellcat Records debut REDLIGHT, only to release their new album, THE QUESTION, a year -- nearly to the day -- later. With THE QUESTION containing nineteen tracks, The Slackers are all about giving their fans the music they want, while fulfilling themselves as musicians.

Alex: What are some of your musical influences?

Vic: Well...70's reggae and ska, 60's ska like The Upsetters! You know, stuff like that.

Alex: What are your band goals for 1999?

Vic: I want to send the world into a panic for the apocalypse. I also want to get ska kids to take their clothes off...I want people to get naked.

Alex: On the road, what do you do for fun?

Vic: Get people to take their clothes off. Getting people to go naked is always fun.

Alex: Have you actually gotten people to take their clothes off at one of your shows?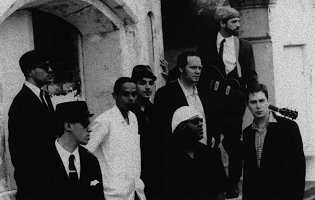 Vic: Yeah, we have. Down south, they're more open to taking their clothes off.
Alex: Besides getting people naked, is there anything else you do on the road for fun?
Vic: We like to go to bars and buffets.
Alex: Buffets, nice! What's your favorite type of buffet?
Vic: Well, I'll never turn down a Mexican buffet. Texas has some good Mexican buffets, too. I also love these Chinese/Italian buffets. I mean, Chinese people running Italian buffets. They're really good, and we've got a few around the East.
Alex: Do you have a favorite city or venue to play? If so, why?
Vic: New Orleans ranks at the top. There is this place called the "Maple Leaf" there, and it would have to be my favorite venue. They don't have cover bands, it's all original music. No jock or trendy stuff there. Just good music.
Alex: If you could tour with anyone, who would it be and why?
Vic: I would love to tour with Queen, but that can't happen. Reverend Horton Heat would be great. I'd also like to tour with The Ramones. We did the Warped Tour with them, but that wasn't a real tour with them. You know, just the two of us touring the states.
Alex: That would be great, except they've broken up.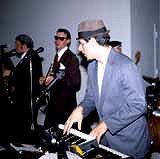 Vic: There is a band called The Remains, which has everyone but Joey, and they play Coney Island High every once in a while. They pack the place. They're really good.
Alex: Is there any road experience that stands out in your mind?
Vic: There were some riots! There was also a nature road experience...a flood in Texas. From San Antonio to Houston everything was under water. The hills and exits were all under water. I mean, you could see gas station signs on the top of the water, guys in rowboats traveling down the street and everything. We ended up in a town on a hill for three days -- Columbus, Texas.
Alex: What do you enjoy and hate about the music industry?
Vic: The other night I watched the Billboard Music Awards and I couldn't believe that crap. They boosted about the fact that the awards were based on record sales and not by fellow artists. I mean, out of them all, the best was probably Billy Joe and Green Day. He writes good songs [Vic sarcastically laughs]. Seriously, he says stupid things about punk rock. It's pretty popular to pick on the popular, so I'm sure he's been picked on enough, but it's crazy. They write good pop songs...I'd like them if they wore suits.
Alex: [Laughs] Seriously?
Vic: Yeah, definitely. They need the suits to go with their pop songs. Green Day writes good pop songs, and so does the Sex Pistols. The thing with the Sex Pistols was when they were around they meant something. Green Day doesn't mean shit. One day I met this girl named Erica and we listened to this punk tape of bands that were doing it just for the music. It was a bunch of kids doing their punk rock thing. These are the kids that think we've sold out because we get to stay in a hotel a few times on tour or get a van to tour in. I mean, they think we're pampered. It's like this band called The Motherfuckers...at this awards show the MC5 drove up to the show in a limousine, but outside The Motherfuckers turned it over because they thought the MC5 were a bunch of rich sell-outs. I think the MC5 did it as a joke or...no, their record label made them use it. But that's how they reacted to them riding in a limo. But, these bands were amazing. I gave her my address and told her to send me a copy of the tape.
Alex: If you could change anything as a band, would you?
Vic: Nope. I'm pretty happy with everything. I might master the record differently, but that's about it. We've made a lot of stupid mistakes, but we like to jump in headfirst and go with it. We played a gig the first week we were together, and some of us couldn't even play our instruments. Some of us still can't. But we've gotten a lot better since that day.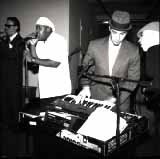 Alex: What are the highest and lowest points the band has experienced so far?
Vic: Amsterdam! We got some great shit there.
Alex: So, you're talking about...
Vic: You said best high, right?
Alex: Yeah.
Vic: Well that would definitely be Amsterdam. After we left Holland we wanted to declare ourselves Dutch citizens. But, playing over there was a high point for us. It's such a carefree, party environment. I'll tell you this, the Europeans know how to party.
Alex: What made you want to be in a band?
Vic: I don't know. I've always played music. This is what I wanted to do.
Alex: What goes into good music making for you?
Vic: Good music making is purely accidental. Sometimes you'll think you've written a great song, but it is really crap. The best stuff comes about when someone shows you a videotape of when you were pissed off. But, everyone was tight and playing great. When I write I write what I'd want other bands to play. I basically just get the antenna up and pick something up. And from there, I go and write the song.
Alex: What inspires you to write your songs?
Vic: I don't know. Inspiration is a weird thing. Being pissed off...It's very easy to write angry songs. I make a craft out writing songs. Even if I don't feel like writing, I'll sit there and practice. Sooner or later, something good will come out and turn into a song.
Alex: What do you want the listener to get out of your music?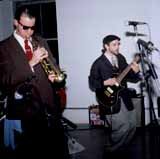 Vic: I want...I'd love for someone to enjoy something I did as much as I loved The Stones. Back in 82 or 83 I was listening to the radio and couldn't find anything. It was all crap. Then, while I was going through some records, I found The Stones. I was blown away.
Alex: How do you feel THE QUESTION compares to previous albums, and how do you feel it stands on its own?
Vic: THE QUESTION was the bands' attempt to stretch out a bit and play what we've been wanting to for awhile. The writing is spread out..everyone has a turn. The production was a lot more experimental, as opposed to the conservative production in the past.
Alex: What aspects of THE QUESTION are you really happy with, and what parts -- if any -- do you wish could have come out better?
Vic: I always wish everything could have come out better. I'm very satisfied. THE QUESTION was rushed. Considering that, we did good. It's the first album that we've released where everyone is completely happy with it.
Alex: Did Hellcat release it on vinyl and CD?
Vic: Hellcat released it on double vinyl! It was like a dream come true. Everyone wants double vinyl like the WHITE ALBUM. And now we've got double vinyl.
Alex: Why did you guys release REDLIGHT and then a year to the date release THE QUESTION? Don't you think that hurts sales on REDLIGHT and kills the album from building an audience?
Vic: I don't know. The more records we can make in a short amount of time, the better for us. If it's a hit, it's a hit. If not, record more. But, the people who are buying REDLIGHT -- or any of our albums for that matter -- are the ones that are going to buy THE QUESTION and every new album we release. We don't really have that one-hit wonder kind of audience. The people that buy our albums will continue to buy them. Besides, The Beatles had hits and recorded two albums a year. So, we just want to record and release as much material as we can before we end.
Alex: Aren't you afraid of burning out?
Vic: If we do, then it is time to move on.
Alex: Are you guys going to go all out to promote THE QUESTION?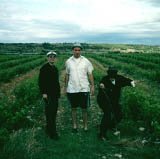 Vic: Yeah! We're starting with the East Coast. We need a lot of East Coast promotion because we didn't tour this area that last time and a lot of our record sales are from this area. It's very silly for us not to play our hometown.
Alex: How's Hellcat working out for you? Are you content, or do you guys crave a bigger label?
Vic: It's going great. I've got no complaints. They give us what we need. Other than that, I'm busy playing live and don't think about bigger labels and stuff like that. They're a very supportive label, so I've never thought of going any higher. Cris "The Wix" and Tim Armstrong do the label and work very well together. Cris is one...she is really amazing. She brought Dropkick Murphy's and Hepcat to the label. She was a big Dropkick Murphy's fan, and nobody had heard of them until she signed them. So, yeah I'm content with Hellcat. They're a great label with great bands. One band I really love on Hellcat is The Gadjits. I got to produce some of their stuff, and it was fun. It was very interesting to work with the rock 'n' roll end of ska.
Alex: Anything I left out that you'd like to cover?
Vic: When it comes down to it, we're a rock 'n' roll band. Heck, ska is Jamaican rock 'n' roll. I love playing ska because you always have a consistent crowd. People will see you 'cause they're into ska and into the ska mood.