Two Man Advantage
Drafted (Royalty Records)
By: Alex Steininger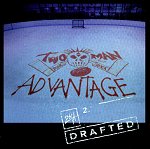 What do you get when you put five porno lovin', beer drinking, hockey fanatics together in a band? That's easy! A hardcore punk band that plays with speed, attitude, and hockey on their minds by the name of Two Man Advantage. Of course, even their name hints at their obsession with hockey. As does their songs, lyrics, as well as every picture and word in the CD booklet. But you know the saying, "Give Blood...listen to Two Man Advantage," err...or is it "Give Blood...play hockey?" Nah, the first one is correct.

"Not a 'fuck you' to any political causes or to anyone for that matter. Simply a song about the fact that guys...ALL guys...enjoy (and 'use') porn." As stated in the CD booklet, "Pornographic" is a song about just that...guys (the band members as well as guys everywhere) use and enjoyment of porn. Hard and fast, the music makes you foam at the mouth just like a good hockey fight. The pulsating drums hammer in the background, the guitars chug along with heavy riffs, and the bass slaps you along side the head with some potent lines, all for the single purpose of getting you moving faster and faster.

Keeping their favorite beverage on their minds, "Beer Man" is an ode to their favorite person (besides the players) at hockey events everywhere. "I love him, I need him" shouts the chorus, giving the proper respect to the man who keeps all the patrons at sporting events on their feet yelling and screaming at the players they've come to see. Just as you'd expect, the song is heavy and fast, never letting up, and always making you sweat.

"I Want A Beer" and "Hockey Junkie" make sure the conversation at hand is two items near and dear to their hearts. Of course, if you don't know what they are by the time you've reached this part of the album, you're either sloppy drunk, or stupid. Plain and simple.

But no hockey lovin' album would be complete without a hockey game sample before a song praising the infamous hockey fight. Oh yeah, and "Hockey Fight (Clark Gillies)" is just that song. More thunderous, ferocious punk rock mixed in with lines like "I wanna drink my beer" and "sit at home and watch a hockey fight." The formula for a perfect evening Two Man Advantage style.

The album's sound doesn't differ all that much (emphasis on the much) throughout the album. It's your basic punk rock, single-minded album. But that doesn't mean its a bad album. On the contrary. Even though the songs sound the same track after track, they manage to keep the repetition down by cramming each song with mountains of energy. Here is an album that won't let you listen and sit still. You have to react. And for that reason, I'll give the album a B+.