Dig
Life Like (Radio Universe/Universal Records)
By: Alex Steininger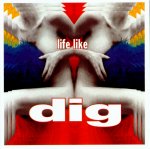 Formed in 1991 after frontman Scott Hackwith began working on some demo tapes on a four-track in his garage, Dig soon took shape once a drummer and a bassist helped add life to the songs. But, something was still missing. Using layered guitars on the demos, they needed an extra guitarist to pull everything off live. They soon added the second guitarist (they are now a three-guitar unit) and then the music started to fully take shape. A combination of hefty pop-rock hooks and soft pop melodies, the band can jump into a rocker or a slower, thought-provoking number.

Their new album, LIFE LIKE, stretches out from the opening track to the ending track. Never re-writing the same song on the same album, and usually jumping into a different style track to track, the band's fresh perspective keeps the album interesting and lively.

"All Over You" has a bouncy drum beat combined with some hook-filled guitar riffs, while "I Don't Mind" is an acoustic ballad that brings in orchestration to allow the words to both breathe and impact. Then there is "The Fuzz" with its opening organ charm that you won't be able to resist, and rock/techno/pop feel.

Diverse and eclectic, while still maintaining a pop-rock foundation on every track, the band seems eager to test and experiment track to track. But they never experiment to the point where it reflects on the music and leaves the listener out in the cold. I'll give this album a B+.