The Warren Commission
What the Rain Doesn't Know (Unity Power)
By: Alex Steininger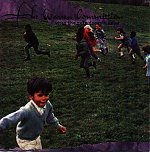 A boy-girl indie pop band from Massachusetts, The Warren Commission mix sweet female vocals with sugary guitar riffs, while also adding male vocals on top of the jumpier times. Dance, shake, and move along to each note, because the pop contained herein will make you both smile and groove.

The songs themselves are delicate and light, but not to the point of slumber. The soft female vocals flow through the music with a gentle touch, one that slightly skims over your wounds and makes everything feel better, while the male vocals help contrast that and shake up things like the blue screen coming from your TV at 3am when you've crashed on the couch watching late night re-runs.

That doesn't mean this band can't rock, because they can. "I Wish There Was" and track nine, the 'hidden track,' show a band capable of breaking out of the quiet setting that rests throughout the album and tumble along with some catchy pop fire.

The band is good when they're soft, which they are for the majority of the album, but they'll make your head spin when they put the pedal to the metal and just go for it. Rock music you won't want to miss is what it is. I'll give this album a B-.