Duf Davis & The Book Club
I Hate People...No Exceptions (Galactic Recordings)
By: Alex Steininger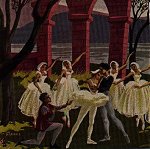 A complete D.I.Y. package from Princeton, New Jersey is the product of Duf Davis. A quirky pop creator, Duf's music is wacky and out there, both lyrically and musically, but it always touches base with the pop-rock that drives Duf to create the sounds that go off in his head.

Did I mention the word D.I.Y. applies to this guy to the fullest? The CD cover is a mere cut out from one of Mr. Davis' "vinyl trash." Not to mention, he sells the discs, through mail-order (51 Grover Avenue, Suite 13A -- Princeton, New Jersey 08540), for a mere $5 postage paid. With all these factors stacking up in his favor, I gave the disc an eager listen to see what everything was about. And I was rewarded with some pop music that runs the gamut and isn't afraid to be wacky and high on life, while also delivering a message here and there.

"How Men Think" is a nineteen second acoustic ditty that ends with the phrase "I'm gonna get some pussy." Of course, everyone knows this is how guys think. Duf, being a guy, admits what is on every guy's mind, including his I'm sure, when they go out to meet women. Whether it is true or not, Duf captures a feeling that both men and women will be able to relate too with such humor, you can't ignore it.

Then there is the hook-filled pop of "My Last Sexual Experience." Duf's voice is rough and overbearing on the music, taking control and forcing itself upon the listener. But, contrasting the light pop in the background with a loud, aggressive feeling, as well as the humor that shows its face throughout the disc, Duf is able to create the appropriate mood for you to truly absorb his music. Conscious or subconscious, his out-of-place vocals seem to add the color and flare the song needs to stick in your head.

Showcasing his singer-songwriter balanced pop-folk, "Let It Go" is just a 12-string guitar and vocals. Pure and simple, much like the packaging of the CD, the song sails along with a mid-tempo cruise that will keep your ears focused while gentle vocals navigate. To the point, much like Duf Davis himself seems to be, the song is easy-going and even easier to get into.

Ending with "Taken By An Angel's Helper," the full band arrangement helps close the disc out with a semi-instrumental (just ba-ba's on the vocal front) pop fill that will prove to you just how musical these guys can be. Although, I prefer the numbers with lyrics more, the guitar work shines on this song and makes it worth a listen or two.

Apparently not afraid of anything, Duf lays it all on the line with humor and a sense of honesty that is only matched by a few. Whether he is joking around with himself or the listener, he is always able to put a smile on your face and put the tappin' back in your feet. I'll give this disc a B+.