This Island Earth
Home Sweet Home (Neuro-Feed Records)
By: Alex Steininger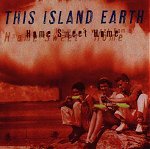 A five-piece from New York, This Island Earth plays tight pop-rock music that embodies both genres nicely. It is full of melody and harmony like good pop music should be, and has the energy and charge of its rock 'n' roll influences.

Starting off with "Dry Well," the band quickly warms you up on this five song EP. Clear vocals line the way while the band delivers the back up beats and hooks to fulfill your pop cravings. The drums move from easy-going to non-stop as the guitar and vocals jump from hook to hook, all while the bass keeps slithering note to note.

Then there is "Edge of Tomorrow," the first single from this record. Easily the stand out track on the album, it combines soft, emotional vocals next to a steady pop beat that makes sure every note goes straight to your head and stays there. And with the help of the hooks, this is no problem.

Ending with "Up and Down," a live acoustic song, the band is able to keep things very similar, while diversifying enough to make sure you don't get bored. Although "All I Want" reminds me of a bad 80's metal-gone-pop trip and makes me want to toss the record on the ground and forget it forever, the other four pop gems on the album make sure you (and I) won't. I'll give it a B-.