Witchman vs. Jammin Unit
Inferno (Invisible Records)
By: Alex Steininger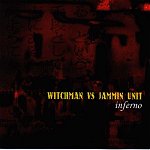 Teaming up with Jammin Unit for writing and remixing duties, Witchman is serves up breakbeats and electronica on his latest, INFERNO. A psychedelic collision of rhythms, beats, and melodies, along with a shadowy essence you can't quite put your finger on, but mysteriously love anyhow, this album is the sound you hear from the dark alleys before you enter. You know you shouldn't, but there is something pulling you towards the alley, and as you enter and hear all the various sounds mold together to form one terrifying sound, you quickly run away in terror.

There is a subtle quality mixed in with the album as well, which creeps throughout and helps lay down the foundation for a spacey, unconscious sound that someone manages to pull itself together and form a tight unit by the time your mind has focused in on the songs and is enjoying them.

The album, at first, fails to sound cohesive, opting rather for a very out-of-place feeling, but on further listens it is this same feature that appeals to you and keeps you listening. This disc is mystery after mystery, which seems to also offer clues to the unanswerable questions if you listen hard enough. I'll give it a B.