INTERVIEW: Less Than Jake
Buddy (Trombone) and Chris (Vocals/Guitar) (Capitol Records)
By: Alex Steininger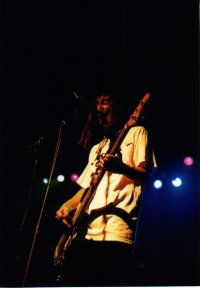 After nearly going gold on their major label debut, Less Than Jake is back with their follow-up. Whether or not they repeat the sales of the previous album, they're out there touring and having fun, which is all that matters to them. With a strong following from their countless tours, the band has spread their pop-punk-ska sound throughout the nation, and doesn't plan on falling off the face of the earth any time soon, which was clear after talking to the guys on a recent tour stop in Portland, Oregon.

Alex: Do you consider yourself a pop band or a ska-punk act?

Buddy: We don't like labels. We're a music band. We play rock. But, if you were to put a label on us, we're more on the punk side than ska, but there is some ska there.

Alex: How do the sales of HELLO ROCKVIEW compare to those of LOSING STREAK? Also, are you picking up new fans with HELLO ROCKVIEW, or are the same people buying the albums?

Buddy: You mean how many units have we moved (laughs)? Well, the sales seem to be consistent. With LOSING STREAK we broadened our horizons a bit as far as the fan base goes because we were touring a lot -- we toured for about two years -- and then the radio play got us some fans, and the popular ska craze also got us some fans. But with HELLO ROCKVIEW it's the same people coming to the shows. Even when Reel Big Fish had the huge hit, it was still the same people going to the shows, it was just different people, the ones that don't go to shows, were buying the records. Most of the radio listeners don't go to the shows, they just hear your song on the radio, on their way home from work, and go buy the record. So, your fan base tends to stay the same. It's not an album to album thing, it's all about time; we've been out on the road a lot more. As for sales, it started out pretty good. We haven't outsold LOSING STREAK, but it is still selling well. LOSING STREAK sold about 300,000 and HELLO ROCKVIEW has sold about 150,000 already. So, it's selling well; it's selling a consistent chunk each week. Nothing like Biggie Smalls selling 600,000 a week, but it's doing good.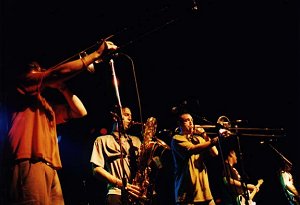 Alex: The video for "Automatic" got slight play, and then "Dopeman" got fair play on indie video shows across the US, so are there any plans for a video for the new album?
Buddy: Actually, oddly enough we do. Three days from now we are filming it down in California during our three-show stint there. Some of our friends who do SIDESHOW, which is their cable access video show, and they also run Drive-Thru Records, are going to film it and edit it. Have you ever seen HEAVY METAL PARKING LOT?
Alex: Nope.
Buddy: It's this footage of this parking lot from a Judas Priest show from 1986 in Maryland. They went around interviewing all the people that were tailgating. We're going to dub in all these clips from it. We got permission from the guy who did it and got all the outtakes and everything. It's going to be like a METALmentary. It's for "All My Best Friends Are Metalheads." There's the connection. It's going to be ultra chip, cable access quality. So don't count on seeing it on MTV, unless we pull some sort of weird strings, then it might be played. Chances are it is going to be too lo-fi. After "Dopeman" we just said "Fuck it." I mean, we spent some money on it and tried to get it played on MTV, and now Sugar Ray just came out with the same fucking video. How lame! The guy who runs our internet stuff, Mike Cariasso, called us Vinny and was like, "Did you see that Sugar Ray video? Did they get your permission to use that? What's going on? I'm going to talk some shit about them now." So he's going to go on the internet and just talk a lot of shit about them now. He's an animal.
Alex: Has radio picked up on HELLO ROCKVIEW and been playing the designated singles so far?
Buddy: Yeah, they're playing "History of a Boring Town." We did a radio tour in December that was kind of cheesy and played with Harvey Danger, Dishwalla, and bands like that. We figured that would help us and all. The stations wanted us to come, and were spinning our record, but it didn't help all that much. But the song has been the most played single so far. It is like the next level above what "Dopeman" got played. "Dopeman" got like twenty plays a week and "History of a Boring Town" got like thirty. It would be great to have a hit single and all, but that is so irrelevant to our whole scheme of things. If it happens, it's just a fringe benefit or whatever, but we're not counting on it. Some people only listen to radio and that's how they're exposed to new music. I'm totally in to them hearing our song on the radio, enjoying it, and going out and buying all our CD's and getting into what we're all about. I'm not fascist or anything like that. I don't believe we should segregate an audience or anything, I'm totally in to being played on the radio, but I'm over with playing the game to get things done. We've done our share of the radio dance. It's all about connections and knowing someone. It's not about the music or the lyrics, so we're through with trying hard to get radio play.
Alex: how would you describe the similarities between HELLO ROCKVIEW and LOSING STREAK, and what are the differences?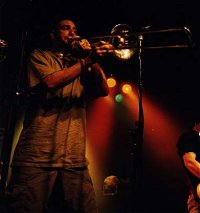 Buddy: The production on HELLO ROCKVIEW is a lot better. The way we wrote the songs is a different, too. We were really rushed. We put it all together in the first two weeks of being in the studio, and the horns were left to be frantically written at the last minute. HELLO ROCKVIEW is more rock oriented, too. We've progressed as musicians and are better at our instruments, and Chris and Rogers' songwriting skills are a lot better. After playing a hundred shows a year you get a lot better and have more knowledge of writing music.
Alex: Did you feel the pressure of repeating the success of LOSING STREAK when you went in to record HELLO ROCKVIEW.
Buddy: We didn't feel the pressure. Some other people in our 'family,' at the label, sure did. It was funny to watch them. We were under pressure to write and record it as far as time was concerned, but not about writing a hit album or anything like that.
Alex: If you had to pick two of your own albums, which two would you pick that best represent your current style?
Buddy: PEZCORE AND ROCKVIEW. LOSING STREAK was kind of a transition thing, and LOSERS AND KINGS was just a beginning album. PEZCORE is the best representation of what we're all about, though.
Chris: Does anyone know what relative humidity is?
(Nobody knew...)
Chris: It's the sweat on your balls after you get done fucking your sister.
(Laughter erupts on the bus)
Alex: As far as touring is concerned, do you have any other big tours planned?
Buddy: Yes. We're talking to Gwar right now. They want to tour with us, so we're working that out. The condition is it's Gwar vs. Less Than Jake, and Gwar wins everything night. We're also going to do the Warped Tour in the summer, and possibly going to Japan after that.
Alex: How is this current tour, with All, Good Riddance, and Limp going? Are you playing and packing 1000+ clubs across the nation like tonight?
Chris: It depends. Last night was 1,700 people and tonight, which has already sold out, is 1,500. It just depends on the area. We played L.A. and there are ten million people in the city and we played to 1,100 kids, then we went to Bozeman, Montana, which has a population of 10,000, and we played to 1,500.
Alex: Your Capitol Records contract allows you to put out compilation tracks and various 7"'s at will, so do you have any idea releases planned for the coming months?
Chris: We've got something on Fat Wreck Chords coming out where there is a hundred bands each doing a thirty second song. We've also got some 7"'s planned, and a CD through our own label planned, which is a nutty idea that I won't even go in to. Someone asked me last night how the GREASE CD came about. Here is how it came about...We opened our big mouths and fucking started talking about it two years before we even had an idea to do it. Then it got blown out of proportions, and people were ordering it and everything, so it got to the point where we HAD to do it! We didn't really feel like doing it, but we had to because we were so fucking fowl. So, I won't go into the liberty of what the new CD is all about, but it is in the early stages and we're trying to do it. If it comes off without a hitch, it will be the coolest thing we've ever done.