SHOW REVIEW: Dorien Campbell w/Marion Star, Add-X, Blark & Diesto
March 24, 1999 -- Portland, Oregon Satyricon
By: Sonya Brown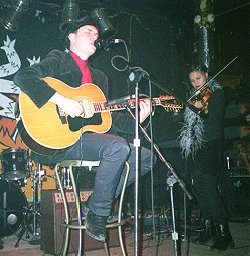 How much fun can you possibly have on a Wednesday night? I decided to venture out to Satyricon to catch the acoustic performance given by Dorien Campbell, and ended up staying for the complete line-up - which for me, means going to work on about 4 hours of sleep... but sleep deprivation was a small price to pay.

First up was Diesto, a "thrash" trio to get things moving, and the last band of the night was Blark (from Cleveland). As much fun as these 2 bands were, I would like to focus my attention here on the performances given by Dorien, and then later by Add-X.

I have seen the band "Sumerland" several times, and I have always loved the vocals of Dorien Campbell; so when I learned he would be performing an acoustic set on his 12-string.... along with Marion Star (of Ganesha Column) on violin, I knew this was a must-see performance.

I have described Dorien before as reminding me of Jim Morrison. Not only is he absolutely gorgeous to watch, but his voice is deep, soft and beautiful. Dorien tells me he has been playing guitar for about 15 years. He tells me that Marion Star has been playing violin since 1995, working mostly in the dark experimental vein. In the past, she has toured with In Gowan Ring, and her current projects include Freq-Transmission and Ganesha Column.

Dorien and Marion performed songs such as "Nirvana's Streams", "Circle Dance", "A Sadness Song" (which is a Current 93 cover), "In My Childhood", "Remembrance", and "Youth and Damnation", a mixture of both old Sumerland tunes, as well as newer material that no one has heard yet. It was absolute heaven!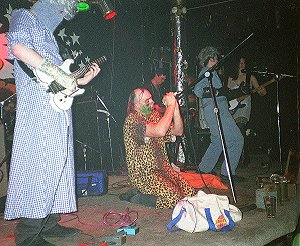 Next in the line up for the night was Add-X. After the mellowness of the acoustic performance, it took me a few moments to switch gears for the more industrial Add-X. I kept thinking "Big Daddy Meat Straw Goes Experimental Industrial"! It was pretty wild! The band came out in various costumes, complete with what can only be described as "a dancing industrial Devo dude", who the singer tells me they met in a coffee shop and he asked if he could join their stage show. The seem to have a lighthearted approach to their lyrics, and performed a wickedly funny tune titled "Zippy Ditty". Another song they performed was "Wonderbuss", which I was given a copy of on a compilation CD called "Whiskers and Hinds". This compilation CD also contains another Add-X song, "God Can Kick Satan's Ass", if that gives you more of an indication of their bizarre style. They were fabulous!
The flyer advertising this particular Satyricon event claimed "we'll cure your mid-week crisis"..... I'm feeling much better now!