All
All (Owned & Operated Recordings)
By: Alex Steininger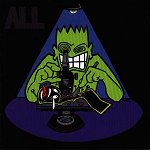 When you discuss pop-punk, you can't go a second without mentioning the Descendents/All without leaving a huge hole in the conversation. Quintessential and highly influential, All has become the landmark pop-punk band that everyone strives to sound like. So after eight full-length releases, All has decided to release a "best of," which was selected by their online fan base, remixed, remastered, and ready to show the world just why they're so great.

Pulling tracks from throughout their career, All offers up an enticing retrospective of what they're all about up to this point. The record in no way signifies they're going to break up or slow down, as these guys are road monsters and will probably be on the road, or in the studio, until they physically can't.

"Crazy," off of a Cruz single from 1989, SHE'S MY EX, gets the record roaring with some splendid punk moments adequately backed up by an ample pop charge. "Million Bucks," off of their one-and-only major label album, PUMMEL, continues with the pop-punk mayhem. The band continues to point out the flaws in society with "Skin Deep," a rejection of superficial people who are 'skin deep.'

Of course, girls and heartbreak play a big role in All's style, which is apparent on "She's My Ex." "Postage," "Shreen," and "Pretty Little Girl" keep the songs about girls and the hearts they've broken coming. And, as you should know, the songs never drag on or get depressing, they always have a humorous touch to them as the band moves on to the next heart break.

Other notable tracks like "Nothin," "Just Like Them," "Long Distance," "Mary," and "Educated Idiot" help round out this twenty-two track disc and make it the gem it is. As the band jumps forward with one song from their later years, and back with a song from their beginnings, you'll hear the cohesive, natural feel that is fluent throughout. The band seems to have been born to play pop music that tries to be punk, and although is spends a lot of time in the pop world, comes out more punk that most of the 'punk' records released today.

If you were ever going to doubt, or try to deny, the influence All has had on the pop-punk world, this disc will quickly shut you up. After hearing these twenty-two tracks, they'll be no doubt in your mind that these guys are one of the best pop-punk bands of all time. Sure, The Ramones are up there too, but All comes very, very close. I'll give this record an A+.