Bo Bud Greene
Las Olas (Four Alarm Records)
By: Alex Steininger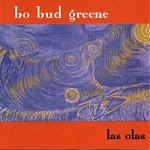 Manic rock 'n' roll from Austin, Texas, Bo Bud Greene is punk in every sense of the word. Though, this isn't your typical punk band. One minute they're chaotic and furious, and the next minute they're soft and just dangling there. Then, there are the times when they sing, and the times they seem to be standing on a ledge and just talking to their listener.

On their third album, and first for Chicago indie Four Alarm Records, Bo Bud Greene once again refuses to be conventional in anything they do. It's been said you either get this band, or you don't. Let me make it known now I didn't get this band. They seem to have quirky minds that are far out there in terms of what they want to do, so as the song develops, it shoots off into another direction and becomes something totally new and exciting.

Yes, even though I didn't get the band, they excited me at times. I would be grooving to a part, and then they'd leave me hanging and quickly change the song into something similar, yet not quite the same. They're definitely not generated for the radio, as there are no hooks, verse-chorus-verse structures, or any other sing-along melodies that might hypnotize you and keep you listening.

Instead, they keep you listening with curiosity. "What is the band going to do next?" you ask yourself. And as you ponder that question, you can't help but go further and further into their musical world. As I did this, I got even more lost and confused. Though, as I said, there are times I was totally into the music and loved it. But they never really had me hooked for more than a few minutes.

I'll give the band credit for having a vision and the balls to carry it out. They're definitely unique enough to stand on their own and to have a very strong presence. Maybe it's true that "Bo Bud Greene's sound is too big for the studio: they should be heard live"? Maybe if I heard them live I would get what they're all about? But, the way it stands, I just don't. I'll give this album a C-.