Choking Victim (Fan site)
No Gods / No Managers (Hellcat Records)
By: Alex Steininger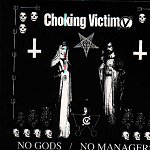 Heavily political, songs like "Hate Yer State" and "Fuck America" show the band's stance on political issues as they take stabs at the lawmakers and people who run our country. Fueling their political message (besides society's illness) is the punk-ska foundation on which they build on. They'll shake you, break you, and then make you dance to their message.

"500 Channels" starts out like it is going to be one hard blow of punk rock, then the band pulls a 180 and dives headfirst into some vigorous ska licks. From there they get you dancing so fast you'll lose yourself in the steps, before they once again drop the upbeat and slam back into the power chords, making you lose your balance as you try to keep up with them.

But the album isn't all anger and discontent for society, it also offers up some humor. The title alone of "Crack Rock Steady" will have you rolling on the floor. Furthering that feeling is the punk-rocksteady blend the band uses under their ultra political lyrics like "Crack rock steady/Are you ready to stop/The rotten blue menace/Let's go kill us a cop." Although they're dead serious, you can't help but feel as if there is a laugh or two captured within the song.

"In My Grave" drops the ska all together and blasts forward with an in-your-face punk number that is about as aggressive as they come. Pounding rhythms sit next to fury and intensity, capturing the band's anger and pissed-off attitude towards reality ("Fuck reality."). "Money," "Fuck America," and "Praise to the Sinners" all start out with a political message from the band as they offer up their views in a spoken-word format before they get heads spinning once again with their neck-breaking punk and knee-shattering ska.

If you're looking for happy-go-lucky ska-punk, or pop-punk that will make you want to dance, smile, and have a good time, this isn't your cup of tea. But if you're looking for a political agenda, lyrics that will make you think (even if you disagree with them), and a discontent attitude that shows its face throughout a hundred percent of this album, then this is your stuff. I'll give it a B.