Furious IV
What's Become of the Baby?... (Hairball 8 Records)
By: Alex Steininger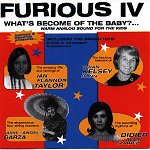 If their name is any indicator, Furious IV might just be a furious punk band of, um, I'd say four members? Well, it just so happens this San Diego four-piece (they are indeed a four piece) is a furious pop-punk band capable of breaking strings one minute with guitar riffs that are fast and sweaty, while the next minute they're bouncing around the dance floor with a sugary pop touch sure to turn all the pop-punk rockers their way.

From the opening of "The Poor Me Sob Story" the band quickly earns their name. The song lays the bass and drums on thick, pouring out an intense (may I say furious?) rhythm section that is nicely backed by the screeching screams of the dual guitar attack. The vocals are rough and tumble, giving the song an even stronger presence.

But, the band just doesn't stop there. "Testosterone" lets it all hang out, giving the sweaty boys and action-driven girls a chance to move around in the pit, kicking up dust, slamming bodies, and trading poundings for solid tunes. The vocals are able to switch from the opening screams to a more melodic tone, but that doesn't change the band as they lay the energy on just as thick, if not thicker.

Never a moments rest either, these guys are all about giving it their all until they drop, and then energizing themselves from their own music and getting right back up on the horse and shooting more punk rock at you. And that's what they do for thirty straight minutes, ending with "F.IV.," the band motto in pop-punk meets hardcore style.

Bouncy and fun, without losing its edgy-feeling, these guys may be pop-punk, but they seem to have more in common with the 'go-get-'em' punk style than the pop side that seems to be hanging in the wing for some fun. I'll give this album a B.