VARIOUS ARTISTS
The Blasting Room (Owned & Operated Recordings)
By: Alex Steininger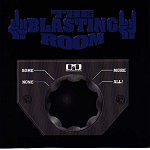 Not only is The Blasting Room home of the Descendents and All, but it is also a state-of-the-art recording studio punkers flock to for the experienced production talents of Bill Stevenson and Stephen Egerton (of Descendents/All fame, of course!). Various hardcore and pop-punk bands, who have been recorded at The Blasting Room, contribute tracks to this disc showcasing the work that has been done at the studio.

The biggest seller on this compilation, by far, is the unreleased Descendents track from the infamous "Milo Goes To College" sessions, "Like The Way I Know." Not their new, spunky pop-punk mind you, but rather a blast of in-your-face punk that still leaves room for a shake down here and there, but is all energy and intensity.

Other established pop-punk bands like All, MxPx, Hagfish, Lagwagon, and Mustard Plug (with their ska as well) also contribute tracks to the disc. All opens with "Insensitive," a pop-punk gem containing their patented melodic force and punk drive, complete with parts you can rock out too, mosh with, or just smile and sing-along.

Then there is MxPx with a live version of "Move To Bremerton," their current single. Three kids from Bremerton, Washington, a "never grow up" attitude, and a big dose of fun, these guys crank out the pop-punk melodies with enough pop to keep you bouncing off walls on a caffeine high.

Songs about beer, sex, bad love, and women are what Hagfish excel at. So, "Moaner," a song with the line "You're a jealous, jealous bitch," couldn't be more fitting for this band. Famous for getting you to sing-along to their anthem of sorts, "Stamp," ("Will you remove my shoes and lift up my shirt, will you eat my box while I work), they once again get you singing along and siding with them as you shout "You're a jealous, jealous bitch" with a smile on your face and no cares in the world. Ain't it funny how magic works?

Owned & Operated's own Wretch Like Me also appears on the compilation, with other bands such as Shades Apart, Lemons, Welt, Bill The Welder, and Immortal Dominion (a metal band that, as much as they seem out of place on this record, seem to also fit in).

With so many compilations on the market, and the over saturation virtually making it impossible to make money on these things without a well-known star to carry you, The Blasting Room comes out with a creative idea (to promote their studio and the bands that have recorded there) and puts forth the punk/hardcore bands to back it up. I'll give this disc a B.