Jeff Autry
Foothills (Pinecastle Records)
By: Alex Steininger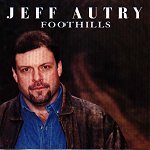 Making his name off the Bluegrass '96, '97, and '98 series (as well as '99), Jeff Autry has ventured out from the band and stepped up to front his own band. With his hot guitar always the lead, with the vocals coming a close second, Jeff Autry belts out the words both vocally and instrumentally.

"Julie" is a bluegrass spectacular, containing the bounce and edge of a well-developed pop song, and the tingle of a great bluegrass number, this one will make you sing along in glee while you're dancing up a storm to the bluegrass rumble contained note to note.

And although the outstanding track ("Julie") comes early on, and Jeff never really rekindles the kind of excitement you get from this number on his others, he still manages to keep you entertained from the instrumentals of "Wild Julio" and "Europa" to songs like "Avalon" and "Please Search our Heart."

A well-rounded disc nonetheless, it seems to lack excitement and a tingle the later the disc grows. It just doesn't develop the way it should, and leaves you craving the opening tracks as the end approaches. I'll give it a C.