Gingham Shmuz
Fallen (Regroovable Music)
By: Alex Steininger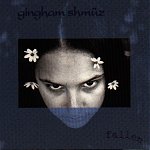 On their third album, Delaware's Gingham Shmuz shake up modern rock with some pop, funk, and even a bit of blues to bring their sound to a boil. A four-piece that isn't afraid to break things down and get funky amidst loud guitars and a rock crunch, they also have a soft side and are able to settle down and make things work.

Songs like the title track, "Fallen," and "Eternity" show the band on top of their rock 'n' roll game, with pop making a bit impact as well. Then there are tracks like "Out of my Head" and "Pipe Bomb" which feature the thundering funk groove they mix with their rock bedding. Yet, they have one more type of sound that jumps out through the album; a soft acoustic whisper like the one found on "Tired and Wasted," "Little Bit More," and the acoustic version of "Fallen." Here they trade in noise for laid-back, gentle melodies that are both delicate and confident.

Although they are able to rock out effectively, the acoustic cuts on this album are what really shine. The modern rock gets cliched during parts, and tries to break free by throwing funk or blues your way, but often ends up just losing the powerful that makes the band come alive. But that is not the case on the acoustic cuts, which are straight ahead pop ditties.

There are a lot of good cuts mixed throughout this disc, and although they make a statement when they're playing, they often get overshadowed by the songs that just don't possess the energy the others do. The acoustic material leaves you craving more, while some of the rockers leave you craving the acoustic songs. I'll give this disc a C.