Mike Ness
Cheating At Solitaire (Yeah, It's Rock Records)
By: Alex Steininger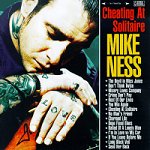 Legendary punk rocker Mike Ness has stepped away from Social Distortion for awhile to embrace all his musical influences. Bridging early rock, punk, country, blues, and rockabilly, Ness has created a substantial sound that clearly shows the wider range he is capable of. Still as powerful as Social Distortion's material, CHEATING AT SOLITAIRE is fourteen mind blowing songs sure to kick your ass and make you think more about what life is all about.

Opening with "The Devil In Miss Jones," Ness delivers a hard-noised country song with punk rock attitude. The steel guitar trickles through the song while the drums trample over it without looking back. Ness' gritty vocal style, the one that has defined Social Distortion for so many years, keeps the song heavy and dark, with street-wise, hard-luck lyrics shaping it.

On the first single, "Don't Think Twice," a Bob Dylan cover, Ness turns the folk number into a head-on attack of emotions and spirit. The rockabilly groove gallops behind the punk, guitar-driven face of the song. With strong hooks littered throughout, Ness is able to draw you in and make you feel every word as vividly as its originator. The country influences helps to even further the attack Ness does on your emotions, giving the song a permanent spot in your heart long after its passed.

Another notable track on this disc is "Misery Loves Company," which teams up Ness and rock legend Bruce Springsteen. Trading off verses, and harmonizing throughout the song, the two form a brilliant collaboration between working class values and rock antics.

Not to be outdone by his own songs, Ness just keeps the hits coming. You'll be hard-pressed to find a bad track on this disc, and as the songs roll by, you'll constantly be reminded of this. "Rest of Our Lives" is a country-folk rocker, with ample punk influences, sure to send chills down your spine with its raw drive and passionate personality. The bounce of the drums will have your feet tapping, while the sting of the country notes and gritty vocals will burn straight through your body.

"Ballad of a Lonely Man" gives us more of the rockabilly gone country that seems to shine bright throughout this disc. The rockabilly influences loan the song a nice dance beat you'll want to get up and move too, while the country portion of the song helps push Ness' vocals and lyrics straight through the music and right out into the open. Driven with so much heart, you'll welcome the insight and tales Ness willingly shares with the listener.

Ending with "Long Black Veil," Ness finishes off everything with a song that pays homage to the country greats like Hank Williams and Johnny Cash. Pure and sweet, Ness comes clean and shoots out an old time country number with honesty and integrity.

From the loud, anti-authority perspective of Social Distortion, to a more heart-felt, down-to-earth feel, Ness makes the move with ease. His solo material leaps from genre to genre without alienating the listener of making them feel as if they're listening to something completely different, yet each song has its own distinct flavor. I'll give this album an A+.