Tara Nevins
Mule To Ride (Sugar Hill Records)
By: Alex Steininger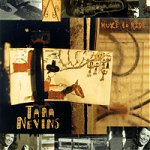 Without even putting the album in you know you have something special. The album contains over twenty songs, with over twenty musicians performing on the album. If that isn't impressive, I don't know what is. But it's the music that counts the most, and that is understood when you pop the disc in to find out what it's all about.

Jumping through old country and bluegrass fields, even going as far as molding two reggae songs into country sounds, this album takes many steps forward, while paying tribute to the 'steps' of the past.

"Fall on my Knees," the album opener, is a hot-steppin' bluegrass number that will have you dancing from the opening notes until the final one, while "Troubles" offers up some old country to bring you down a bit to put things in perspective.

Each song is molded into its own by the various talents running through it and bringing the song to life, but no song seems out of place. Each track sits pretty next to any other track on the disc, easily keeping its identity, while also making everything feel like a very tight package. One minute you'll be shaking and dancing to their fiery bluegrass, and then you find yourself soaking up the emotions on their country sounds. Whatever route they take, it feels like they've traveled the path so many times before it must be second nature to them.

And that is exactly what the overall sound of this disc is -- a bunch of musicians performing their second language (music). Obviously born and raised on both bluegrass and country, they show their true colors without even blinking. Sixty-six minutes of good time, dancing, honest music that will warm you up and put a smile on your face...I'll give it an A-.