Six Going On Seven
Heartbreak's Got Backbeat (Some Records)
By: Alex Steininger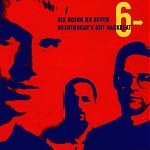 Pairing an emo feel with some pop-rock, Six Going on Seven delivers some passionate rock 'n' roll that is sweet and catchy, while also packing enough of a force to get where they want to go. They can be soft, they can be loud, and they can do it all in one song. This three-piece delivers on their latest, HAERTBREAK'S GOT BACKBEAT.

"Portsmouth" opens the album with a strong emo urge, as the band slides between crafty pop-rock and slick emo. The emotional sting of the song bites down hard on you, all the while the melody sits back and coaxes you to keep listening, even while the emotions run wild in the song.

"How to Sell the Brooklyn Bridge" also bites down hard on you as the band throws some punk into the mix -- not a lot, but enough to keep things on the rougher side of the tracks. As the vocals add a gruff touch to the song, the bass steps up to the plate and makes sure the song is pounding loudly on your door. The guitar and drums still call upon their emo sides, giving the song a nice contradiction between soft and hard.

Then there is "Reverse Midas," which will grab you from the opening chords of the guitar and the vocals, right through the bouncy chorus that slips and slides through catchy pop hooks with plenty of rock on the side to keep you moving. The band keeps calling upon the emo, though, never dwells there too long and makes sure there is enough rock chops to keep things harsh.

"Backbeat Reprise" closes out the disc with more of their poppy chaos, giving you one last dose of the pop-rock-emo that packs a wounded heart and a soul that just wants to have fun. A quick little ditty that doesn't amount to much, it leaves you with questions, but seems to be effective enough to get you scrambling back to track one.

They have plenty of pop to balance out the emo, which gives them enough time to spill out their feelings without being too emotional, and a rock touch that makes sure everything is tightly packed and ready to hit the listener hard. I'll give it a B+.