David Hillyard and the Rocksteady Seven
Playtime (Hellcat Records)
By: Alex Steininger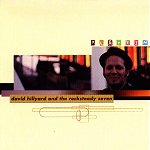 Much-anticipated often seems like a buzzword used to create interest in a particular artist or band's new album. However, in the case of David Hillyard, there isn't anything more fitting and true. Well-respected for his talent throughout the ska community, and a big part of what makes several bands tick (including The Slackers), David Hillyard finally brings his talent to the front of the band on PLAYTIME, his debut solo album.

Combining the Jamaican sounds of ska, reggae, and rocksteady with some R&B and jazz, David Hillyard's style is traditional in every sense of the word, but lives and breathes in the modern era. It is an accepted affair between all the sounds that strengthens one particular style while showcasing the other.

"Hillyard Street" doesn't waste any time. It cuts straight to the dance groove that infects the whole album, and gets you dancing in no time at all. The horns are lush and bright, creating a loveable essence throughout the song, while the rhythm section keeps everything warm with a spicy Caribbean mist that tickles the song and gives it an even classier sound.

Then there is "The Fool," which includes guest vocalists Greg Lee and Alex Desert from Hepcat. Of course, Hepcat and David have similar musical visions, so the song parallels Hepcat's own -- it could easily pass as a Hepcat song. But hey, with a band as golden as Hepcat, that's not an insult. David shows his chops, taking center stage with his saxophone and garnering all the attention. Of course, the rest of the band isn't to be out done, and steps it up a notch, too.

"Angry Lady" also features Greg and Alex giving it the Hepcat touch as well. Another stand out track, you can't help but want to get into the music -- dancing and throwing all cares to the wind when the music is blowing in your ear and telling you everything will be all right. More reggae focused than ska-oriented, with a strong jazz touch to boot, the song is simply beautiful. It moves and shakes so elegantly; you'll be mesmerized.

Of course, the instrumentals are primarily what the band is all about. Which is clearly detailed on the title track, a hot and heavy jam that slowly builds until eruption time, and then lets go to bring everything back down to a simmer. A rocksteady theme underlines the song and helps push the groove to the limit. You can't listen to this one and not want to dance. I can hardly keep my body still enough to write this.

"Skavez" sizzles with a Jamaican vibe match-able only by a few. The guitar takes center stage this time, while David's saxophone accents everything to the tee. Kudos is deserved to the rhythm section as well, who just don't let go and keep pushing the song, which is where the energy for everything obviously comes from.

Ending with "Sidney's Ghost," a continuation of the marching band sound that began the disc ("Sidney's March"), they go out with a romantic vibe that helps sum up all the fun and excitement, as well as good times, that are to be had on this disc. I'll give it an A.