Various Artists
Music Inspired by the Motion Picture "Life" (Rock Land/Interscope Records)
By: Sylvia White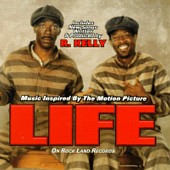 Who says that R. Kelly is talentless?! I'm sure no one after his recent musical contribution entitled, "Life Soundtrack". R. Kelly, along with the help of Wyclef Jean has collaborated with a bevy of artists from the R&B, Hip Hop and Country genres to create one of the better soundtracks of the year. On the fifteen track "Life Soundtrack" we hear music from some of today's hottest artist. R. Kelly, who wrote ten out of the fifteen songs, gathered big names with strong vocals to collaborate on this balanced piece of work.

The strong points of the album are throughout and rarely, if at all, does the work level off on any artist's part, even the Hip Hop tracks are lacking nothing.

The highlights of the soundtrack are: "It's Like Everyday" which finds R. Kelly & DJ Quik together on a jazzy sorta track. Nicely harmonized by the R. and not overdone by brother Quik. It's definitely something to groove to. "Stimulate Me" has Destiny's Child and newcomer Mocha lacing a smooth beat with tight vocals of the R&B and Hip Hop sort. A seductive track with sexy vocals from the young ladies. Very nice. On "Fortunate" a beautifully lush track from R&B crooner, Maxwell, is a great tune that has faired well for him. He has garnered a number one hit with this track and rightly so. R. Kelly found the exact button to push in order to make this tune Maxwell oriented and Maxwell ain't so bad himself with that wonderful falsetto which seems to rise and fall effortlessly throughout the song. Very nicely done.

"Lovin You" is a remixed track by Wyclef Jean done by the R. Kelly protege Sparkle. It finds her putting her own unique spin on the Minnie Ripperton classic by including Hip Hop phlavor throughout. "It's Gonna Rain" a beautiful gospel oriented ballad from the new diva, Ms. Kelly Price is one of the best songs currently running. Kelly Price has such talent that she seems to pull you into her tracks through her strong delivery. If you haven't heard this tune you need to because you are sure to catch a feeling from this tune that warns of how life won't always be perfect. Kelly's subtle but evident emotional delivery takes you through her struggle. I love this song, I love Kelly Price!!

"Discovery" from the wonderful balladeer, Brian McKnight has him staying with suit and giving us a rich ballad to hang on effortlessly. "Follow The Wind" is done by country artist Trisha Yearwood and might I say, nicely done. This tune has her combining her talents to a little R&B and a bit of Country. R. Kelly is slowly outdoing himself by collaborating with artists regardless of genre lines and he proves that R&B and country aren't so different. "Why Should I Believe You?" which finds the new mini-diva Mya doing her best to pull this sassy tune over and she succeeds. A nice mid tempo track that Mya does justice to vocally. "What Would You Do?" a track by newcomers, City High, is an up tempo cut that has strong reggae elements. It may prove to be a nice summertime track.

We then find the icons of R&B, The Isley Brothers with their contribution of "Speechless". This mellow, slow tempo track stays true to their form of presenting power ballads for the ladies. A great seductive track. "Life", the title track is done by the Hailey Brothers, K-Ci & JoJo. On this spiritually inclined cut we hear some Al Green influence on the part of K-Ci with his emotional delivery. Jazz instrumentation holds up this tracks base and makes it a good feel sorta song. "New Life" from Wyclef Jean is a great song is the same musical lines of some of Curtis Mayfield's earlier uplifting material. It is a great track that borrows from the old school of sound and lends something positive to the ears of today's youth. Wonderfully done by Wyclef.

This album as a whole receives a strong 5. Very rarely do we get soundtracks with such balance and diversity in artists and genres of music. Each artist lends something unique and different to this work to make it into one of those CD's that you just gotta have. Pick up your copies today!