INTERVIEW: Alien Crime Syndicate
Joe Reineke (vocals/guitar) (Collective Fruit)
By: Alex Steininger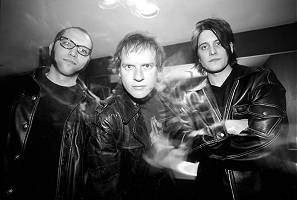 After the demise of The Meices, front man Joe Reineke started his next project, Alien Crime Syndicate. Pushing things to the limits, Alien Crime Syndicate concocts powerful, spacey, tight pop music that is as crunchy as it is catchy. And in the center is Joe Reineke, the singer/songwriter for the band, and a man with a knack for writing clever pop music.

Alex: So what major label did you sign too and what exactly happened?

Joe: We were signed to Revolution Records, which was part of Warner Bros. We were signed by the president, and then at the end of mixing the album, everyone was fired, and they went back to being Giant Records.

Alex: In all honesty, do you think your debut album will ever see the light of day?

Joe: Yeah. It's looking more and more likely. Hopefully it will be out in the summer on Collective Fruit.

Alex: Have you ever thought of just re-recording the songs on the full-length and releasing the new recordings?

Joe: Yeah, we could definitely re-record it; it's been a year since we turned it in to the label. But, the original recording kicks-ass, so there really is no point to re-recording them; Gil Norton produced it and everything. I really liked the way it turned out, so I just couldn't go in and record it again.

Alex: Tell me about the EP; how did it come about?

Joe: It was going to be a 7" and then Collective Fruit told us they would rather do an EP. "Tripping on a Cloud" is a demo off the full-length and "When I Get Home" is a summer pop smash. The 2nd & 3rd tracks are newer tracks, and while we were working on the artwork, "Here With You" was written, and I thought we just had to put it on the album.

Alex: Besides "pop," do you have any labels to describe your music? Joe: Yeah, we do! We call it good, really good.

Alex: What are your band goals for 1999?

Joe: We hope to put out the full-length, and we're going to do a ten-date tour through California.

Alex: What do you enjoy and hate about the music industry?

Joe: I enjoy playing music and having people excited about it. But I don't like the betrayals; you have to have thick skin in this business. I'll wake up sometimes and wonder what I'm doing, but music is all that motivates me, so it's all I think about doing.

Alex: If you could change anything as a band would you?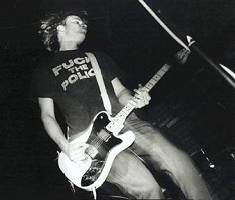 Joe: I wouldn't have jumped out of the box and tried to get a record deal so fast, but that didn't really hurt the band. Other than that, I don't really regret anything.
Alex: What are the highest and lowest points the band has experienced so far?
Joe: A high was definitely finishing the album. I think it's the best album I've made. A low would be finding out it wasn't going to be put out.
Alex: What made you want to be in a band?
Joe: The ladies!!! (laughter)
Alex: What goes into good music making for you?
Joe: A good song and a good idea. It all starts with a good idea. Growing pot or a flower is the same as writing a song...starts out a seed and turns into a big bud.
Alex: What inspires you guys write your songs?
Joe: Things that happen everyday, looking around, on-going experiences, or anything like that. There isn't one thing... I can't put my finger on any one thing.
Alex: What do you want the listener to get out of your music?
Joe: People listen to music for different things. I'm into melody myself. I would hope they listen and enjoy it, maybe get it stuck in their head like a catchy jingle.