INTERVIEW: Ean Hernandez
Tales from the Birdbath (Empty Records)
By: Alex Steininger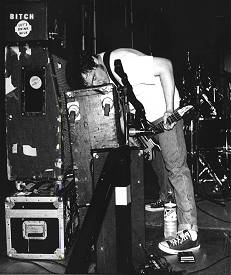 Ean Hernandez is probably best known as the front man for the punk-rock outfit Sicko. But now, with his new project, Tales from the Birdbath, Ean comes full-circle and demonstrates his knack for writing clever, powerful pop ditties that are fun and exciting, without even the slightest essence of depression possible.

Alex: First off, Tales from the Birdbath has been described as a solo album. Why not use your name than in the title?

Ean: I wanted to think of it as a band. Getting anyone to stay in it for awhile is hard, but it isn't just me. It is a band, and a not solo record. The album relied on all the band members involved to bring it to life.

Alex: I've heard that you play some of these songs acoustic. How do the crowds react, since the majority of singer/songwriter acoustic guitar shows are perceived as sad and depressing?

Ean: Well, here in Seattle some are sad and some are downers. I play to a lot of punk crowds, and it makes more sense to them. However, I get mixed reactions when I play to the singer/songwriter crowds. Some think it is really cute, and others just give me blank stares. People don't really know what to think of it.

Alex: Will you be having the same people that played on this record playing on the next?

Ean: I hope not. I like playing with them, but I want a real band, not a revolving line-up. I really need different people so I can have a solid line-up.

Alex: There are some semi-serious numbers on here like "Tell Her" and some down right comical ones like "Snowcone." Is the whole intention of the project to just kick back and have fun? Ean: Probably, yeah. I didn't look at it like having a purpose. I just wanted to play pop-punk. I wanted to stretch beyond where Sicko has been, but didn't want to make a habit of writing love songs like "Tell Her."

Alex: How does it feel to be away from Sicko after seven to eight years of playing and recording with them?

Ean: It's very upsetting. I was this guy attached to this thing and without it I wasn't that guy anymore. It was very awful at first. But now it feels good to be working on new music with new people.

Alex: What are your musical goals for 1999?

Ean: We're going to do this tour and have a good time. We're not going to worry about making money or anything like that. There is a guy who wants to bring us to the U.K., but that's very sketchy. I'd also like to have a stable version of the Birdbath.

Alex: What do you enjoy and hate about the music industry?

Ean: I like to make music and release records. Just the other day a College Station played our song up here, and it was nice to hear them playing it. I also like meeting folks and swapping ideas with other musicians. But what I don't like is the majors and all the ugliness that goes with them; all the professional-ness.

Alex: Are you going out with another band on your forthcoming tour, or are you just going to jump club to club and play with whatever band is there that night?

Ean: The Primate 5 are my backing band, and the deal was that they would back me on the tour if they could open.

Alex: What goes into good music making for you?

Ean: It takes a lot of thought. You need to have an initial idea, rework it to make things sound good, and then stick with it. Some of the songs on the Birdbath album are very old. Like "Olympia" is ten years old. I wrote it with someone from the Primate 5 a while ago, and the first time we demo'd it was two and a half years ago. Then we re-recorded it to make it better, re-mixed it a few times because I wasn't happy with it, and then put it on the album. There is a saying that says music is all about 99% perspiration and 10% inspiration, and I agree. That is what a band is all about. But, basically, you need a good idea and need to follow it through from there.

Alex: Do you think you'll ever release an acoustic album?

Ean: Yeah, I'd like too. There is a lot of fear there, though. A lot of fear went into the Birdbath. I thought people would laugh at this project, so I was reluctant to do it at first. But, to me, doing a solo acoustic album is the most pretentious thing you can do. It's just you and a guitar, which is very pretentious. But it also makes sense, since I'm playing solo acoustic shows around town. I've performed more and took things farther than any Birdbath song, but I'm still very fearful about a solo acoustic album. Besides, I don't know what Empty Records would do with something like that, since they are a punk rock label, and already went out of their way to release the Birdbath album, which is very poppy. It's a very complicated issue for me.