Fifteen
Lucky (Hopeless/Sub City Records)
By: Alex Steininger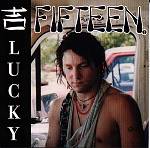 One of the most politically centered bands out there today, Fifteen has been speaking their minds openly for more than a decade. Pop-punk with a burning rock 'n' roll appetite, Fifteen, led by the lyrics and voice of Jeff Ott, are poised to change the world one step at a time. And on LUCKY, named after Richard "Lucky Dog" Gargano, their former bass player who killed himself after becoming addicted to amphetamines, the band is at the top of their game. The CD is even released on Sub City Records, an imprint off of Hopeless Records that is donating 5% of the retail price from every CD sold to the charity of the band's choice. Fifteen's selection is a benefit for Judi Bari and the Earth First! Redwood Summer Project who are currently fighting the FBI and Oakland police in court after Judi Bari was severely injured in a car bombing. For more information please visit http://www.monitor.net/~bari/.

"Family Values" tackles underpaid workers while "My Congressman" blasts the government for not allowing people to purchase clean needles for their drug additions. "My congressman says I can't give my brother a clean syringe, if he should get AIDS and die it's just too bad," displays the potency of their music. But to further that effect, and speaking from experience, Jeff offers up the following three steps to anyone who might "find yourself in the position of having to share a needle with another person":

1. Suck water up to the top of the needle and squirt it out.
2. Suck bleach up to the top of the needle and squirt it out.
3. Suck water up to the top of the needle and squirt it out.

But, taking some time out from political issues, the band offers hope on "Lucky," an ode to their former bass player. An emo number with heavy punk chords, Jeff recalls the time he got the call that Richard was dead. "Hey kid," he offers, "I hope you know sometimes life is gonna suck. Hey kid, I hope you know sometimes everything is gonna be fucked up. Hey kid, I hope you know the only way around your problems is straight through them. Nothing is insurmountable, nothing is undoable, nothing is unbeatable, nothing is impossible."

With as much energy and self-empowerment that goes into each song, most bands would wear out at this pace. But Fifteen just keeps going. "Welcome To Berkeley" tackles people's problems, society's downfalls, and everyone's method of escaping. "War On Drugs" spits in the face of the government, blasting them for oppressing their own people, and only giving rich Americans a fair shake. The disc even ends with "When The Hell Is He Going To Fucking Shut Up Already?", which is a five minute speech from Jeff explaining what this CD, Sub City, and the Earth First! Redwood Summer Project is all about.

Highly political and powerful, if you want a musical explosion, this is for you. Nothing stands in the band's way as they plow down everything in our society that is wrong and call a spade a spade. Not afraid to speak their mind, and never pulling punches, they let it rip on Fourteen burning numbers; I'll give the album a B+.