Generiks
Revenge of the Dung Beetle (Retrograde Records/Beyond Music)
By: Alex Steininger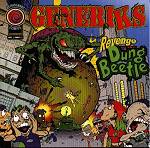 This Phoenix-based punk rock band takes punk rock fury to the next level with their charged, melodic, fast sound on REVENGE OF THE DUNG BEETLE. Twelve songs of aggressive, powerful punk sure to split hairs, these guys know how to make noise, and get you to enjoy it.

"A Thousand Miles" and "Blown Away" open the disc with separate three-minute attacks of punk rock; the band has no problems yelling and bashing it out, as long as it is melodic. The songs bounce and pogo around, while the rough-edged guitars slice through the air with fury.

"Regret," "Let It Go," "Chicken Bone" keep the energy level up, though the later seems to slow the pace down a bit as to not over-kill the fast punk that characterizes the album. Though the band has a good, fast sound, the vocals are lacking, which detracts from the music. When he screams, it fits in nicely for a bit, but soon overpowers the music and begins to take away from the overall quality of things; and when he tries to sing, all is quickly lost.

The disc has all the energy I look for in punk, and definitely isn't lacking in fuel to drive them to greatness, but the vocals were so annoying to me, I couldn't get into the music. They really lost me there; I'll give the disc a C-.