Vince Bell
Texas Plates (Paladin Records)
By: Alex Steininger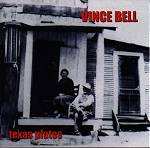 Never have I heard such an amazing story as Vince Bell's. One night after driving home from a late night recording session, he was broadsided by a drunk driver at speeds in excess to 65mph, and thrown sixty feet from his car (with embedded glass, multiple lacerations to his liver, broken ribs, and a mangled right forearm--not to mention severe head trauma). Yet, despite all of that, he's managed to come back and record one of the year's best country albums. Strikingly pure and honest, and full of hope and optimism, this guy embodies the concept that whatever doesn't kill you will only make you stronger.

"Poetry, Texas" is pure poetry, both lyrically and musically. Vince's voice is full of warmth, caring, and hope, as well as good times to be had. As the acoustic guitar is strummed, its gentle breeze flows through the song like a summer wind on your face, and you can't help but feel the love surrounding each note.

"2nd Street," another powerful song amongst powerful songs, once again shows the vibrant sound and relaxing qualities Vince can call upon with the gentlest of pushes. His voice is laid back, much like his guitar, and just walks through the song with a casualness matched by few. The additional instrumentation helps to back up the easy-going mood of the song, and gives you even more of a treat to feed off of. Vince even matches the beauty of the music with lyrics that will instantly stop you in your place: "The dying's easy, but the living is hard."

"Best Is Yet To Come" shakes and grooves like no other on this disc; the song is easy-going and powerful like all the others, but has a jangly beat to it that makes you just want to get up and have some. Uplifting and inspiring, the song will put a smile on your face and remind you that life is full of beauty, you just need to go searching for it. The music could be seen as a reminder of the good things in life, a fight song for the spiritually broke to not give up hope, because much like Vince Bell himself has experienced, wallowing in self pity does nothing, so get up and prove to the world and yourself that you're here to make a difference--and you can, too!

Ending on an upbeat note, "Last Dance At The Last Chance" is another optimistic number that proclaims, "The forgotten can be happy news/ And tired eyes can stand the light," with such a hope-filled, honest voice, you can't help but believe in life again.

Vince Bell is a true inspiration for all. His music is positive and uplifting, and as he recalls upon different times and experiences in his life, he lifts up the sadness and depression with happiness and a new light. There is hope; this is one of the most spiritually guided albums of new. I'll give it an A+.