Chevelle
Point #1 (Squint Entertainment)
By: Alex Steininger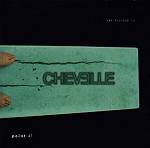 Chevelle is comprised of three brothers, ranging in age from 18 to 24. Hailing from the windy city of Chicago, Chevelle's debut is packed with monster blows and hard rockin' beats to give the album the burst of anger and fury that producer Steve Albini helped bring to life.

Though I'll give them credit for being able to whip out some heavy beats and a gigantic assault of guitars and screams, the band loses points with their generic, modern rock sound. Maybe it was Albini's production, which has been heard all over the airwaves by now, or the band's youth, but their music seemed to be the epitome of modern rock radio today.

There was nothing new or original here. I gave it a good listen, and by the time the disc ended, I was tired and fearing the direction "modern rock" was heading even more. Maybe in time they'll have something, but for now, they don't. I'll give it a D.