Disappointment Incorporated
F=0 (Time Bomb Recordings)
By: Alex Steininger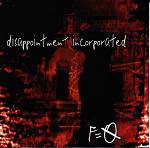 Disappointment Incorporated are political rock 'n' roll to the core. A five-piece with a crunchy, full sound, the band drives through edgy melodies and poppy beats with equal amount of force. They'll blast you with some political content one minute, with a loud and obnoxious sound to it, and the next bring you around with a song about love (or love gone bad for that matter).

"Gone To Heaven" and "Feelings Mean Nothing" are both spine-tingling, beautifully settled edgy rock-pop songs; instead of shouting and riding the guitar for transportation, the band settles down and decides to let their feelings flow under a gentle blanket.

Then there is "American," which is hard hitting both on the political and musical sides. "Forget" is another standout track, which displays the band's guitar capabilities and rhythm section power all in the same song. They're able to whip up a frenzy with a solid backbone, a lead guitar that can spit out some hot licks, and a very cohesive sound that shows the band at their tightest.

When their EP was released in 1998 on Time Bomb Recordings, the band sounded like another thrash band trying to go melodic and catchy. But, this full-length shows the band at their peak, serving up good music with a solid lyrical foundation. There is plenty to like here; I'll give it a B+.