Stacey Earle
Simple Gearle (Gearle Records)
By: Alex Steininger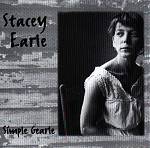 With a strong voice, very personal lyrics, and an acoustic guitar, Stacey Earle sculptures some of the most softly beautiful songs out there today. Country music as it should sound--pure, honest, and natural--Stacey's gentle tone and easy-going demeanor allow her to craft music so powerful, so heart-felt, you can't help but take notice and love it.

"Waiting" opens the album with just Stacey and her guitar. Down to the basics, it is Stacey's voice that captures your attention, and the guitar that warms up your heart. The words that come out of Stacey's mouth echo in your head, as you pay attention to each word to make sure you're not missing a thing. The song is a quick minute and forty-nine seconds, but makes a long lasting impact on you as you listen to the rest of the disc.

The songs flow so naturally, as they should, because Stacey seems to be extremely comfortable as she opens up her heart to the world. "Next Door Down" opens up her sound a bit with the help of additional instrumentation, including a rhythm section, which helps put a stomp in the song. But it is always Stacey's acoustic guitar and voice that keeps you from straying from the music. The vocal harmonies also warm up your soul, as you feel like they're singing directly to you, and you just can't help but shed a tear at its beauty.

"Losers Weep" is another delicately crafted piece that will have you sitting there in deep thought, as Stacey's gentle voice and sad tone almost make you misty-eyed as she shows her heart to the world. So intimate and detailed, she brings you so far into her world, you can't help but feel as if you know here more and more after each song.

She does up lift the tone of the album, though, with numbers like "Show Me How," which possesses a very optimistic sound that offers up hope through all the pain and reflection throughout the album. She also lets her hair down on "In My Way (for Frances)," as her voice picks up and carries a very sunny tone to it. With the vocal harmonies and the bouncy rhythm section, the band seems to have as much fun playing it as you do listening to it.

Stacey Earle's music is sweet and delicate, as she reflects on her life track to track. When she sings you'll stop everything and listen, as her voice is so honest and warming, despite the pains found throughout. I'll give this album an A+.