PC69
Electrified (Digital Dimension Entertainment)
By: Alex Steininger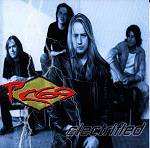 Over a decade old, and still going strong, Germany's PC69 take metal back to the frivolous, arena rock days when the music was about drugs, cheap sex, beer, and having fun. Rivaling a music style that died in the early nineties, sugar metal is back with ELECTRIFIED.

When I first put this CD in I wanted to hate it. I mean, everyone shamefully remembers the 80's arena rock style that took the airwaves by storm and became the soundtrack to our youth (don't you?) Anyhow, that's exactly what PC69 reminded me of, but the more I tried to hate them, the more they grew on me.

"Stranger In Time" and "Over The Fire" both display the band's talent quite well. They can rock and roll, with hammering melodies and a painful rhythm section that could crush you in a minute, but they also have a sweet sting to them, which make them fun numbers to air guitar and rock out too.

The whole album is a powerful, intense drive from start to finish, but even when they're beating down on you with thundering guitar riffs and a metal crunch sure to please, they always make sure they're slicing enough pretty material into their style as well.

You could call them Glam-metal for the year 2000, or you can just call them a rock band. Any way you look at it, they have the ability to make noise, have fun, and leave even the most skeptic souls (like myself) in amazement. Simply put, this disc isn't that bad. I'll give it a B.