Rye Coalition
The Lipstick Game (Gern Blandsten Records)
By: Alex Steininger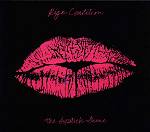 A four-piece band from New Jersey, Rye Coalition is a loud rock band with aggression and spirit going for them. But that is about all they have going for them. They seem real into their music, which is a good thing, but the vocalist's inability to sing and his obnoxious highjacking of the music leaves you craving more.

"Thanksgiving Day For Cats" and the title track, among the others, seem to have a loud, infectious melody beating underneath the horrid screech of the vocals, but because of the vocals you're unable to really get into the music and all the grooves they serve to rock you fall on deaf ears. When the singer decides he doesn't need to scream, and tones things down a bit, he can be quite enjoyable, but this rarely happens, leaving you, and the disc, with a very empty feeling.

The music is very promising. But with annoying vocals ruining every song, there just doesn't seem to be any room for the disc to grow on you or capture your attention. I wanted to keep giving it more chances to see if I was missing something, but every time I put it in, I just didn't get it. I'll give it a D.