Set 'Em Up Joe
Set 'Em Up Joe (Royalty/Daddy-O Records)
By: Alex Steininger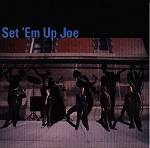 Mixing swing, blues, and rock 'n' roll, Set 'Em Up Joe is a neo-swing band. On their debut full-length, they show signs of a talented back caught in the rough, while some sparkling numbers shine through.

With the frenzy of swing bands coming out of the woodwork following the swing revival that went full circle last year, the genre was alive and kicking with some fine musicians fueling the scene that would make the originators of the style proud. Riding on the heels of this media craze were many bands, some who thought of it as their meal ticket, and others who truly loved the music felt they could bring their love for swing out in the open to an audience other than the wedding crowd.

Set 'Em Up Joe sound truly inspired by their love of swing, but seems to young to really make an impact. With the vast amount of neo-swing now available, you've got to really sparkle and shine to catch my ear, and although there are some great parts on this record (including some solid songs throughout and nice horn lines), the overall sound of the record is underdeveloped and too young. The band seems to need to work out the kinks in their sounds and grow into their visions before they can make the kind of swing they want to make and you want to listen to.

I'll give them credit for trying, but this record needs a lot of work. As a band they're not the tightest swing act out there, and sometimes fall pray to a generic whirlwind that sweeps over them. I should mention, though, that when they're on their game, they're on the top. Too bad that only happens during partial parts of this record. I'll give this album a C.