Skeptictank
Potted Meat Food Product (Statutory Records)
By: Alex Steininger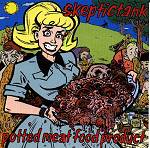 A three-piece from Salt Lake City, Utah, Skeptictank is a pop-punk band that keeps it simple. By keeping it to the basics, they generate some catchy pop hooks that charge straight at you. They also have the tendency to throw in some ska, which helps back up the pop and makes you want to dance even more.

The album has some good selections, including "#1 Hit Single," which starts the album off and delivers a hook-filled, easily danceable pop-punk/ska ditty that will also make you crack up laughing. "Let's Laugh at the Homeless" points towards the more political side of the band, which takes stabs at society and our dark side, which you'll find throughout the album. Hard-driving punk rock, with some experimental chaos at the end, the band gets their message across with a blow to the gut.

Unfortunately though, "Mediocre" describes this disc all too well. Although you'll find some good cuts like the ones above, the majority of this disc is mediocre pop-punk that tries to expand past that base, but just doesn't quite make it.

The band can be funny and political, sometimes in the same song, which is a big plus for them, they just need to learn how to focus their creative talents a bit more and grow as a band before they reach the point they want to achieve. The disc is a good listen, but more than once it starts to wear on you. I'll give it a C-.