The Smooths
No Brakes (Side 1/Dummy Recordings)
By: Alex Steininger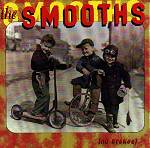 Calling Baltimore home, this eight-piece band fuses pop-punk, rock, and ska to come up with their poppy, danceable sound. On their second album, the band captures some good, danceable moments that are packed with fun next to some less-than-desirable moments where the momentum seems to be lacking.

"Farewell" shows the band at a high point, as the ska takes charge, and the band is able to muscle up some highly infectious notes to charm their way into your ears. Then there is "History's Burning," which still possesses the band's energetic attitude towards their own music, but seems to lack the momentum and hooks to let the listener indulge it.

"Take A Look" seems to be stale; the band doesn't seem as comfortable in the softer settings. They still have some strong pop hooks, but the song isn't as punchy as some of their other numbers. Then there is "CCTX," which does possess the pop-punk drive and the spirited horn lines to uplift the song and push it past mediocrity.

The Smooths have a knack for pop hooks and strong ska riffs, but don't seem able to call upon them on every song. Instead, the album spins around like a Ferris wheel, one minute it's up, and the next it is not. As a whole, the album is decent; I'll give it a C.