Speedbuggy
By: David Jenison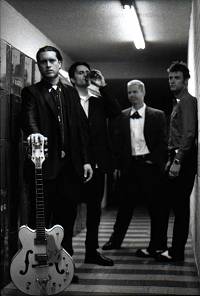 SoCal's Speedbuggy - made up of former members of NOFX, Suckerpunch, and DeCry - may just represent the next evolution in punk rock. Their stellar sound, which mixes together super high energy punk with rockabilly and classic country like George Jones and Johnny Cash, is too unique to be categorized yet too good to be ignored. Though there are rockabilly-influenced punk bands out there, Speedbuggy is the only one with the fast fury of a band like Motorhead. In the same way that Pennywise resembles a faster Bad Religion, Speedbuggy could be called a faster Reverend Horton Heat or Social Distortion.

Ironically, for all Speedbuggy's uniqueness, the band never intended to do anything different. "As far as our sound," remarks vocalist/guitarist Tim Gruse, "we really just fell into it. When Steve [Kidwiler - guitar] and I first got together, we found ourselves naturally writing songs that had elements of country and punk. At the time, all the club bands around Los Angeles were emulating Nirvana. We didn't have the stomach for that, so we decided to keep going with what we were doing. Today, with Mike Ness and bands like the Old 97s, our sound is much more in fashion. A lot of kids want an option other than just skate-punk, and they are turning to rockabilly and cow-punk as that alternative."

Speedbuggy, who did a national tour last year with Bad Religion, has already captured a large fanbase with the skate-punks. Gruse continues, "If you tell a skate-punk that a band mixes country and punk, he will hate the band before even hearing it because he thinks of country as the crap they play on the radio these days. Many kids come to our shows because they were fans of the NOFX records that Steve was on (up to and including Ribbed), and when they see what we're all about, they love it."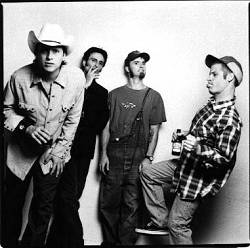 Speedbuggy - which also features Brady Sloan on bass and Pat Munzingo on drums - are humorously vocal in their dislike for modern country. "To be honest," says Gruse, "I don't think it's very country. I think it sounds more like eighties-era Lionel Richie with a twang. Now there's all these female country stars that look like models. I'll tell ya, Shania Twain was a lot more country before she got her teeth fixed. Back when, that girl could chew corn through a picket fence!"
Speedbuggy's country influences come from the old days. Gruse continues, "People don't realize that old country has a lot in common with punk rock. The old country singers were rebelling against the mainstream performers of the time, like Bing Crosby. This is before there was even rock 'n' roll. These old country artists were singing about fighting, drinking, and whoring around. You'd never hear an old country song on the radio today because it would be too abrasive. Modern country radio doesn't want songs about freely cheating on your wife or losing your child's college fund on a bad poker hand. The old country singers had a total anti-establishment mentality that made them villains of the mainstream. That is the sound of country that we tap into with our music. We'll take Ernest Tubb over Bing Crosby any day."
To date, Speedbuggy has completed three national tours and released three albums - their full-length debut, Hardcore Honkey Honk, a colored ten inch vinyl of punk rock George Jones and Buck Owens covers on Frank Kozik's Man's Ruin label (already sold out), and a new five song self-titled EP. Their song "Low Down on the Low Down" is featured on a recent Side One Records compilation, and "Country Song" is featured in the motion picture "Boogie Boy," produced by Oscar-winner Roger Avary ("Pulp Fiction," "Killing Zoe"). It has taken years of persistence doing their own thing, but today, Speedbuggy is making a big noise in the underground with what is arguably the most vital new punk sound in years. As other punk bands across the country continue their own treks down this same lane, it is possible that a major new punk movement may be just around the corner, and Speedbuggy will be one of the bands at the forefront.
Visit Speedbuggy on-line at http://www.speedbuggycowpunk.com or contact them at (323) 658-6778.