Scared of Chaka
Tired Of You (Sub City Records)
By: Alex Steininger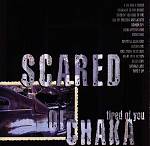 Albuquerque, New Mexico's finest, Scared of Chaka, are back with another album chalk full of powerful punk nuggets. Their fierce 70's punk/garage rock sound is as sharp as ever, as the band rips through chord after chord of pure mayhem.

"A Lie and A Cheat," "Straight to the Office," "Dead Afterwards," and "Right Way Action" are all great tracks (heck, all of the fourteen tracks on here are musically great). The music rips and rocks, and you couldn't get wilder if you tried. These cats know how to play punk rock straight from the heart, full of fun and excitement, while each song also has a purpose. But, the band's vocals get lost behind the wonderful noise, making it virtually impossible to understand the screams, gnarls, and shouts without reading the lyrics and following along. And who wants to do that when they could be up moving to some fine punk? Surely not me, and that is why I just couldn't get into this album.

The vocals may be under mixed, the rest of the stuff may be over mixed, or this may be the sound the band is going for. At any rate, the vocals are completely flushed out by the music (which is good, don't get me wrong). But, without the vocal's dominance, the songs are lacking. It feels like you're at a live show, listening to a band you've never heard before, and you like what they're playing, but you just can't understand a word. So, you go to check them out on disc. But this time, that doesn't work either.

There are moments you can clearly make out what they're saying, which really gives the music a lot more punch, and after listening to the disc for a while, the words will come to you (or after you read the booklet and memorize the lines). Once this occurs, it becomes a real treat. But it takes time to get to that stage. And, until then, its just doesn't work. I'll give it a B, though, because if you're into the music, stick it out and you'll find yourself a treat.