Short Music for Short People
101 Bands Playing 30 Second Songs (Fat Wreck Chords)
By: Alex Steininger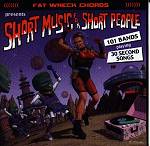 Leave it up to the folks at Fat Wreck Chords to come up with a craze idea like having 101 bands playing thirty second songs on one compilation. And not only did they pull it off, but they pulled it off with some, and possibly all, the best punk bands. Bands like The Mr. T Experience, The Dickies, No Means No, Descendents, Screeching Weasel, D.O.A., The Vandals, NOFX, All, Sick of it All, Rancid, Poison Idea, Black Flag, Agnostic Front, Down by Law, The Bouncing Souls, The Muffs, Misfits, Less Than Jake, and a boat load of other bands make this something very worth your money.

As you can imagine, thirty seconds is a very short amount of time and you can't really cram a good song into that amount of time, though a lot of bands try, and some pull it off. Another down side to this compilation is the fact that after listening to it for a while the bands start to sound the same, except for notable bands that are so distinct you couldn't mistake them for anything. But, a lot of the younger bands or more unknown ones start blending with each other creating a song that lasts longer than thirty seconds.

But, this album is all about fun and cramming the most music you can on one disc for the listener. This is virtually a who's who in the punk scene, and needs to be recognized for that. Though there are some down sides, the fact that this disc has 101 bands on it, with all your favorites, should quickly put all doubts you have to rest. And, though the compilation may get old after a few listens, those first few listens are quite fun, so give this a listen if you're into punk at all. I'll give it a B+.