The Sheila Divine
New Parade (Roadrunner Records)
By: Alex Steininger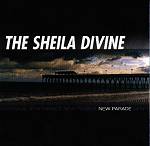 Emo seems to the thing these days, as people hurry to slap the label on anything that they feel is "emotional" and wears its heart on its sleeve. Well, to be honest, I hate to use the term unless it really fits both to the lyrics and the music, and with The Sheila Divine it seems to sit well. Their sound encompasses what I feel emo is, which is starting off slow and building to a more powerful rock yell, then bringing everything down to touch level ground again, before firing back up and rocking out (which usually ends the song). And that's what they're about.

The problem with this disc, though, is its generic, run-of-the-mill modern rock sound. It fits so well with the hordes of other bands clogging up the radio these days, its not even funny. Sure, they've got better than normal lyrics and a true heart for what they're playing, but the way the songs come out is just too average to really separate what the band is doing from the masses of other bands doing the same. Which is too bad, too, because they've definitely got the skill to really take their music to a higher level.

There are some good songs on this album, like "Opportune Moment" and "New Parade," but overall they get stuck in the modern rock hole that has sunken so many bands. If only the lyrics could find a way out of the music that surrounds them, then maybe the band could shine. But that doesn't happen here. I'll give the album a C+.