Texas
The Hush (Universal Records)
By: Alex Steininger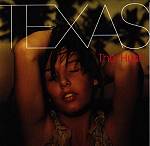 Giving soul music a makeover for 1999, Sharleen Spiteri and her band, Texas, fuse dance-pop with a soul groove and lush vocals to come up with their bright, warm sound. Selling over ten million albums worldwide (according to Mercury Records), Texas seems to be a very big deal in the UK. And, with beauty everywhere, THE HUSH might just be their chance to really make a dent in the dance-pop scene of the US.

A lovely twenty-something frontwomen with a beautiful voice and lush sounds backing her is what you get here. And I'll be the first to admit, the first thing I noticed was the frontwomen, before I had even put the CD in. But, unlike a lot of groups who are able to sell records because of the looks of their members, Texas actually seems to be able to escape the frontwomen's beauty and develop themselves on their sound alone. "Tell Me the Answer" delivers ample soul along with the dance groove the group aims for and Sharleen's voice has no problem switching between heart-felt soul and frill-filled pop delight.

"Move In" continues with the soul, while "Saint" captures the pure pop aspect of the band. The title track finds the soul lurking around, while the pop has darkened a bit. The song isn't as bright and bouncy as the rest of the album, but rather deeper and a bit more cautious, if anything. Still centered around pop, this time around the band wants to make you think instead of dancing.

If dance-pop with a soul groove is your thing, this will hit the spot. It has a delicious dance beat taste and a soulful lead singer who has an amazing voice bringing the music to life, so you won't be let down. I'll give this album a B.